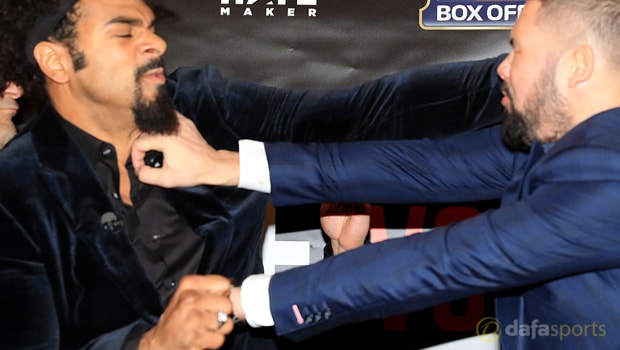 Promoter Eddie Hearn has claimed that his fighter Tony Bellew could put himself in contention to take on IBF heavyweight champion Anthony Joshua if he beats David Haye next month.
Bellew is the current WBC cruiserweight champion but he has moved up a weight division to take on Haye at The 02 Arena on March 4.
The Liverpudlian continually called out Haye last year and finally got his wish with both men looking to make a statement at the start of 2017.
Haye, a former world heavyweight champion, is looking to take on Joshua later this year but Hearn admits that Bellew will also consider the fight if he can overcome his rival.
"There is a potential for a David Haye fight right now, so if someone beats him then you have to think that person comes into the mix as well," Hearn told Sky Sports.
"If Tony Bellew beats David Haye, he becomes a huge name and it would be very difficult for him to return to the cruiserweight division, because of the fights available to him in the heavyweight division.
"He feels like if he beats Haye it's going to open the doors for him in the heavyweight division as well.
"He's in the final stages of his career. Not as in this is his last fight, but probably last five or six fights, so he's looking at the biggest fights possible to bow out on.
Obviously they would be in the heavyweight division rather than the cruiserweight division."
Haye is a heavy 1.15 favourite for the grudge match, with the draw priced at 29.00, while Bellew is available at odds of 5.50.