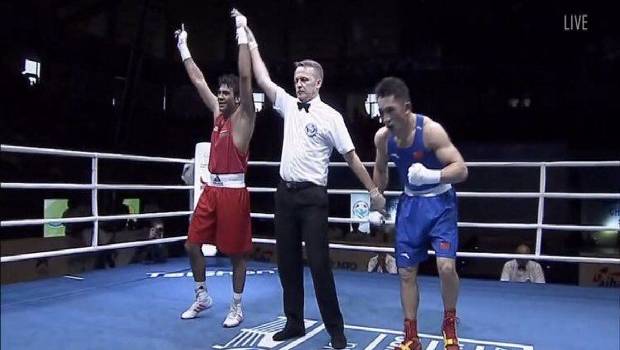 Satish Kumar beat Jamaican Ricardo Brown 4-1 in round of 16 in Men's super heavyweight boxing match on Thursday. Satish Kumar recorded a comfortable win over Ricardo in his opening bout in Tokyo. The 32-year-old Satish Kumar Yadav created history after becoming the first Indian to qualify for the Super Heavyweight Category (+91 kg) at the Tokyo Olympics. Satish is just one win away from securing a medal for India.
Both the boxers made their debut at the Tokyo Olympics. In the battle of the debutants, Satish Kumar triumphed over the Jamaican and sailed into the quarterfinals. All five judges declared that Satish was the more dominant boxer in the bout. The Indian boxer dominated the game with his right hand and allowed Brown to make the mistake of lunging.
Ricardo Brown's poor footwork throughout the game helped Satish Kumar to steal the show and secure a win. Ricardo Brown was looking and searching for the one big punch that could unsettle Satish but he failed badly, as he didn't move quickly enough.
Satish could have been in great trouble if the Jamaican has connected his punches to perfection because he was huge and powerful. The Indian boxer Satish was quick on his feet so that he sharply responded to Brown's attacks. Satish sustained two cuts in the bout, one on his forehead and the other on his chin. He got cuts because of the three head butts during the bout.
Satish Kumar Yadav is the first Indian male boxer to win a bout at the Tokyo 2020 Olympics. He missed out to qualify for the 2016 Rio Games by a little margin but made himself strong to qualify for Tokyo with a bronze medal at the Asian Olympic qualifiers.
Satish Kumar had won a bronze medal in the 2015 and 2019 Asian championships under the Super heavyweight category. His first major victory came at the 2014 Asian Games, where he won a bronze. Satish recorded his best with a silver medal in the 2018 Commonwealth Games. The government of India awarded him the Arjuna award in 2018 for his achievements in the boxing sport.
The 31-year-old Jamaican Ricardo Brown is the first boxer from his country to qualify for the Olympic Games since 1996. Satish will face Uzbekistan's Bakhodir Jalolov in the quarterfinals on 1st August. Bakhodir Jalolov is the reigning world and Asian champion. Jalolov punched out Mahammad Abdullayev 5-0 in his round of 16.