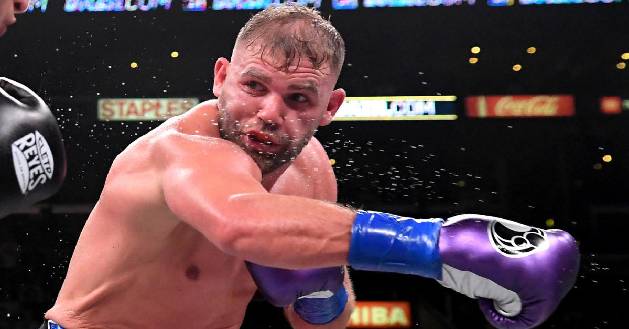 Saunders was stopped by top pound-for-pound fighter Saul Alvarez on Saturday; Saunders underwent surgery on Sunday. Billy Joe Saunders says his surgery went well on Sunday following his defeat to Saul 'Canelo' Alvarez – and has vowed to return to the ring.
Saunders' corner threw in the towel after the eighth round in Dallas on Saturday night, having seen the damage Alvarez had inflicted with a fierce uppercut.
Saunders spent Saturday night in the hospital and then underwent an operation on Sunday, having suffered multiple fractures to the orbital area of his right eye.
There was some suggestion that the 31-year-old might retire after suffering such a serious injury, which is likely to keep him out of the ring for quite some time.
But he wrote on Facebook thanking everyone for the messages. He also said the operation on his broken eye socket and broken cheekbone went well. He hinted at his return to the ring by writing he will be back.
Saul Alvarez produced a devastating uppercut to leave a distraught Billy Joe Saunders unable to rise from his stool after eight rounds of their world title unification bout. Just as Saunders looked to be gaining a footing, the Mexican found a shot which caused an instant swelling over the British fighter's right eye. With Saunders not being able to see his trainer called the bout off.
Alvarez after the fight said he knew he broke Saunders' cheek once landing the final punch. He had guessed the impact of the blow and said to his trainer Eddie Reynoso that he broke Saunders' cheek when being at the corner.
Within seconds of landing the pin-point blow, Alvarez raised his hands in front of his rival, ruthlessly letting the 73,126 in attendance know that he had broken a man that has the resistance of a metal.