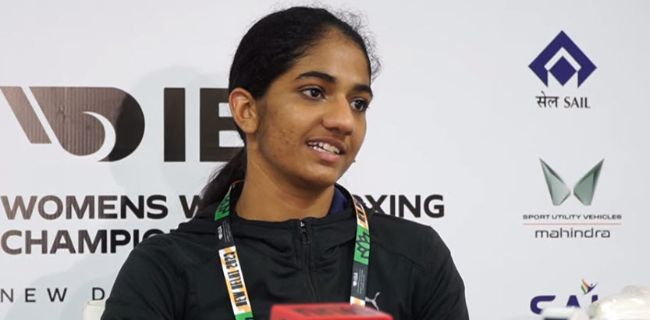 Indian boxers made it a perfect day on a big stage with all four semifinalists making it to the gold medal bouts scheduled to be held over the weekend. Commonwealth Games Gold Medallist Nitu Ghanghas (48kg), defending World Champion Nikhat Zareen (50kg), and Lovlina Borgohain (75kg) stormed into the finals of the IBA Women's Boxing World Championships 2023 with stellar wins on Thursday. In the 48kg semifinal bout, Nitu faced a tough challenge in the form of reigning Asian champion and last year's World Championships silver medalist Alua Balkibekova of Kazakhstan.
The semifinal was seen as a rematch of last year's World Championships quarter-finals and both boxers went all guns blazing in the first round. Nitu, who lost to Balkibekova in the Istanbul edition, learned from her mistakes and adapted well to make a thunderous start. The young Indian played from close range, throwing Balkibekova off her natural game as she preferred to box from a distance. But the 27-year-old Kazakh boxer still managed to maintain her dominance to take the round 3-2.
In the final two rounds, Nitu persisted with her strategy and found a good rhythm to land clean hooks and jabs. However, Balkibekova never gave up the fight and kept making things difficult for her opponent. Balkibekova repeatedly resorted to body blows and clinching tactics. The final three minutes were a tense affair. For the first time in the tournament, Nitu was playing in the third round. Finally, the 22-year-old Indian boxer won a thrilling bout 5-2 on points after the bout was reviewed.
Meanwhile, Nikhat was up against Rio Olympics bronze medalist Ingrit Valencia of Colombia. Nikhat won the 50kg semifinal by a 5-0 unanimous decision. Valencia was a silver medalist last year in this weight class. It was not the first time Nikhat was facing the Colombian though. The two had squared off earlier in the Big Bout Boxing League which the Indian had won unanimously. However, since then the Colombian rose in her rank and played in major competitions including the Olympics.
Two-time Worlds bronze medalist Lovlina eked out a huge 4-1 win over Li Qian of China, a Tokyo Olympic Silver medalist. Lovlina booked her maiden appearance in the title round of the prestigious championships after clinching a high-profile clash against the 2018 World Champion.
Joining them in the final was Saweety Boora (81kg), who won a hard-fought semifinal against Emma-Sue Greentree of Australia. With the bout having gone to a review, the result went 4-3 in Boora's favor.