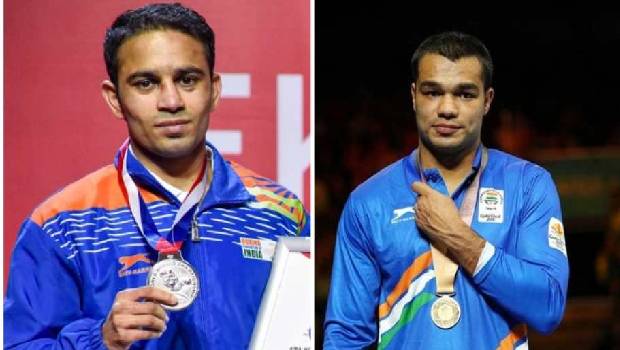 Various names from different sports genre have been filtered and sent for the sport's prestigious award nominations. Under the boxing category, the Boxing Federation of India had nominated Lovlina Borgohain, who boxes under 69 kg, Simranjit Kaur, from 64 kg, and Manish Kaushik the 63 kg boxer had nominated by the BFI for the Arjuna Award. The world medallists Amit Panghal and Vikas Krishan Yadav on 1st June 2020 were nominated for the Rajiv Gandhi Khel Ratna Award by the BFI for the sports honours. Borgohain has won bronze twice, and he won one last year.
BFI had finalised profiles for the Dronacharya Awards, namely Mohammed Ali Qamar, and Chhote Lal Yadav. Including the coaches, the athlete's names were also chosen based on the last 4 years of performance, said BFI. The Asian Games champion Amit Panghal, who has won many medals for the nation, has not been recognised with honours because of a dope offence in 2012, but the boxer had nominated thrice for the Arjuna Award. When the boxer had allowed competing, celebrated by the nation when he earns medals, he should also receive honours, said R K Sacheti, the BFI Executive Director. Panghal also wrote a letter to Kiren Rijiju, the sports minister, requesting to change the selection committee and the self-nomination process.
Amongst the 3, Arjuna contenders, Manish Kaushik has a good history of performance, in the past four years. Kaushik had qualified for the Tokyo Olympics, with a maiden bronze medal, and silver in 2018 Commonwealth Games. Simranjit Kaur and Lovlina Borgohain have also earned their Tokyo Olympics seats through the Asian qualifiers. Usha Nagisetty, the female world medallist boxer, from Visakhapatnam who is 35 years old, has named for the Dhyan Chand Award for the lifetime contribution in the sports. June 3rd, 2020 is the last day to file nominations for the sports honours, and the nominations are Amit Panghal, Vikas Krishan Yadav for the Rajiv Gandhi Khel Ratna Award, Lovlina Borgohain, Simranjit Kaur, and Manish Kaushik are the profiles nominated for the Arjuna Award. For the Dronacharya Award, Qamar, and Lal Yadav, and the Lifetime achievement award known as Dhyan Chand, the nominee is Usha Nagisetty. After verifying their 4 years of dedication, these are the profile names that were referred by the Boxing Federation of India to the authorities.