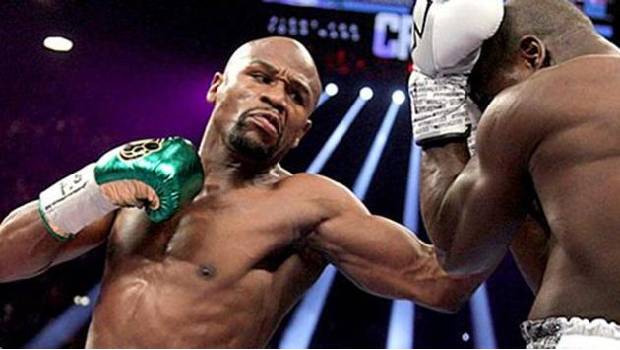 Former world boxing welterweight champion Floyd Mayweather on Tuesday announced he will face YouTube personality, Logan Paul. This encounter will be an exhibition bout which would be taking place at Miami's Hard Rock Stadium on 6 June. The event will thus not clash with Triller's fight on June 5.
Mayweather on his Instagram wrote Logan Paul and he are going to fight at Hard Rock Stadium. He also mentioned that in order to organize this epic event Mayweather Promotions, Fanmio and Showtime will come together.
While in another Instagram post from Mayweather Promotions, they hyped up this encounter as a historic crossover event naming it to be "Bragging Rights."
Any specifics or information about this event was not disclosed in this announcement such as the number of rounds to be plated or what size gloves would be used by both individuals.
Paul, 26, entered white-collar boxing first in a bout against British YouTuber KSI back in 2018. The event generated 1.3 million global pay-per-view buys. A rematch was fought in 2019 in Los Angeles.
Meanwhile, Mayweather hasn't fought since beating mixed martial arts star Conor McGregor in 2017 by TKO in a cross-combat super-fight in Las Vegas. He came back from retirement to go up against McGregor. Prior to his retirement Mayweather had an unbeaten career record of 50-0, 27 KOs that spanned three decades. While his last world title match came in 2015. He has since then only focused on exhibition bouts, with his most recent time came up against kickboxer Tenshin Nasukawa in 2018.
Mayweather would not be putting his record on the line for this fight and his long-term manager, Leonard Ellerbe said the event would be "nothing like" what the boxer has seen prior to this. The legend's team said the bout a historic crossover event with the YouTube boxing sensation still being able to garner much attention. This will be Mayweather's third crossover event.
Paul is joined in the boxing world by brother Jake, 24, who defeated former MMA star Ben Askren earlier this month. Paul is known for his 'Impaulsive' podcast