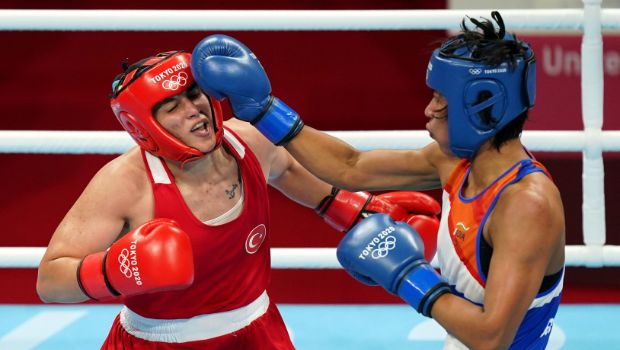 Lovlina Borgohain made it a golden Sunday for India at the Women's World Boxing Championships in New Delhi. Lovlina defeated Australia's Caitlin Parker in the final bout of 75kg category to claim her maiden Gold medal at the World Championships. The star Indian boxer produced an outstanding fight to end the curse of winning bronze medals and became the World Champion by emerging victorious over Parker with a split 5-2 verdict. Earlier, Borgohain won three bronze medals, two at the Worlds event and one at Tokyo Olympics.
After winning the summit clash, the 25-year-old Indian boxer confessed that she is very happy to win the gold and make India proud. I had two bronze in Worlds and one in the Olympics. But worked really hard to change the colour. I am ecstatic to have changed the colour, Lovlina expressed. Ups and downs are part of life, but I took these as opportunities and worked hard and I have gold today, she concluded.
Earlier in the day, Nikhat Zareen won her second gold medal at the World Championships. Zareen sealed a comfortable 5-0 victory against Vietnam's Nguyen Thi Tam in the final bout of 50kg category. The 26-year-old Indian boxer dominated the championship match right from the first round. The second round of the contest was a closely fought one as Thi Tam bounced back strong. But Zareen stood strong and battled with good energy to turn the game more in her favor in the final round of the match and won the title clash with a dominant score.
Zareen's yellow metal became India's third goal in the tournament. Zareen has now joined an elite list featuring Indian legendary boxer Mary Kom. The top star of the Indian boxing Zareen is only the second Indian after Kom to win World Championships twice in her career. Zareen has been a boxing sensation for India for the past few years. And a second gold at the Worlds will surely motivate her to continue the hard work and reach great success in the future.
I am very happy that I have become a world champion for the second time, especially in an Olympic category, Zareen admitted. Zareen said that this was one of the toughest bouts she faced and it was a roller-coaster bout. My next target is Asian Games, so I will work hard to win there, she concluded.
On Saturday, Indian boxers Nitu Ghanghas (48kg) and Saweety Boora (81kg) also won gold in their respective categories.