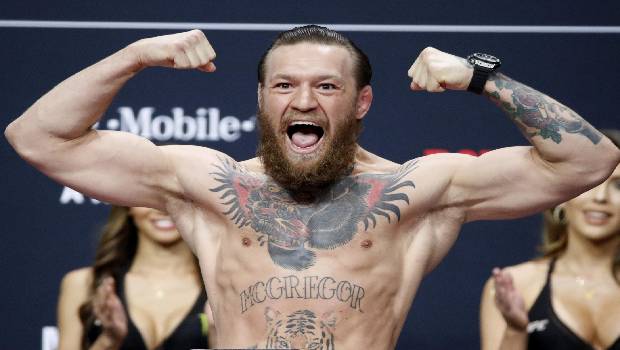 UFC icon Conor McGregor has addressed his longtime rival Floyd Mayweather a dog after the boxing legend posted a threat to YouTuber Logan Paul. Conor took a shot at the undefeated boxing champion after the latter tweeted that he'd place a muzzle on the YouTuber as he did previously to the UFC icon during their 'Moneyfight' that took place back in August 2017. McGregor's tweet was accompanied by a picture of him and Mayweather sharing the ring during their fight. Fans did not fail to notice the tweet and asked both of the men to have a go at each other in a head-to-head fight again.
Mayweather went out of his way and promised to fight Logan Paul in his tweet. Paul rose to fame among fans after competing in some high-profile fights against fellow YouTuber KSI. Logan Paul in a recent viral video clip called out Mayweather. In that video, the YouTuber claimed that he would easily beat the undefeated boxer be it in MMA or in a street fight. He also went on to say that he would snap the undefeated boxer in half with one good punch.
This viral clip did not fail to capture the attention of Mayweather who then took to Twitter to respond to Paul and wrote in which he addressed Paul as Youtube girls and said they will have to find some barbie dolls to play with since he will not be a part of such kind of kid games. Mayweather is a former world champion who clinched his titles in five different weight classes.
He then mentioned UFC champion Conor McGregor and how he put a muzzle on him after calling out his name. He mentioned not minding to give Paul the same treatment before flying to Japan for his next fight.
In a simple response, McGregor who is set to step into the octagon this January responded to Mayweather's tweet by uploading a "dog" emoji. His tweet included a photo in which Mayweather covered up himself in defense, turning his back at McGregor.
Fans soon noticed McGregor's response to Mayweather's tweet and stormed the comment section of seeing both the fighters to fight again inside the ring. Logan Paul took this opportunity and tweeted saying that he would finally end Floyd Mayweather's long-standing streak and wrote "50-1".