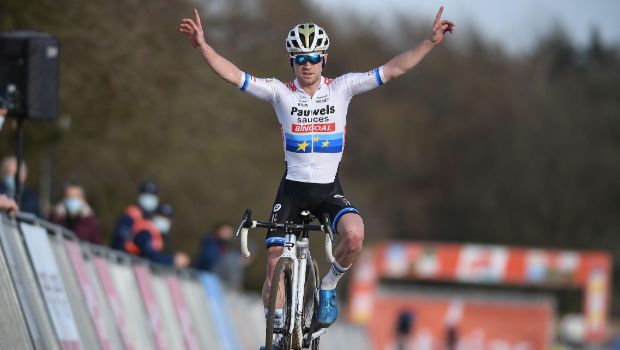 Eli Iserbyt (Pauwels Sauzen-Bingoal) and Lucinda Brand (Baloise Trek Lions) clinched the overall series titles in the men's and women's UCI Cyclo-cross World Cup series respectively. Both claimed their titles following the final round of race in Hoogerheide on Sunday. Brand sealed the second spot to compatriot Marianne Vos (Jumbo-Visma) in Hoogerheide. Though Brand finished second, she had already accumulated enough points to win the series at the penultimate round in Flamanville, France.
In the 15-round race series, Eli Iserbyt proved to be one of the best by winning seven rounds. Iserbyt won the races in Wateroo, Overijse, lowa City, Besançon, Koksijde, Flamanville and Hoogerheide. Though Iserbyt failed to win other rounds of the race, he was on the podium in five other rounds of the Cyclo-cross series.
Iserbyt showed his cleverness to make a last-lap attack and claim the victory at Hoogerheide. The Belgian cyclist pulled back his arch rival Tom Pidcock (Ineos Grenadiers) who led the middle section of the race. Though Pidcock responded well in the closing stages, it was not enough to beat the winner. Iserbyt tasted his 14th victory of the season with a margin of two seconds from Lars van der Haar.
Iserbyt won on the top with a total of 485 points and never gave any chance to other riders to come on top. Michael Vanthourenhout (Pauwels Sauzen – Bingoal) managed to finish runner-up and had a huge difference of 128 points. Toon Aerts (Baloise Trek Lions) took the third place with 348 points.
Lucinda Brand showed her fine form and won six rounds in Fayetteville, Tabor, Besançon, Hulst, Namur, and Dendermonde. Brand raced well and finished with six other podiums in the World Cup. Brand piled up a total of 432 points to win the series title. Brand was 71 points ahead of Denise Betsema (Pauwels Sauzen – Bingoal), who was the runner-up with 361 points. Puck Pieterse (Apecin-Fenix) secured the third place with 350 points.
Iserbyt and Brand are the favorites to win the world titles at the UCI Cyclo-cross Championships which will be held in Fayetteville, Arkansas from 28th to 31st January. Iserbyt, who out showed his class in recent times, will lead an eight-rider Belgian men's team. The Belgian racers are Michael Vanthourenhout, Quinten Hermans, Toon Aerts, Daan Soete, Laurens Sweeck, Jens Adams, and Vincent Baestaens.
Brand is always ready for the contest and will lead an eight-rider Dutch women's team. The Dutch team includes Denise Betsema, Annemarie Worst, Inge van der Heijden, Ceylin del Carmen Alvarado, Manon Bakker, Marianne Vos, and Yara Kastelijn.