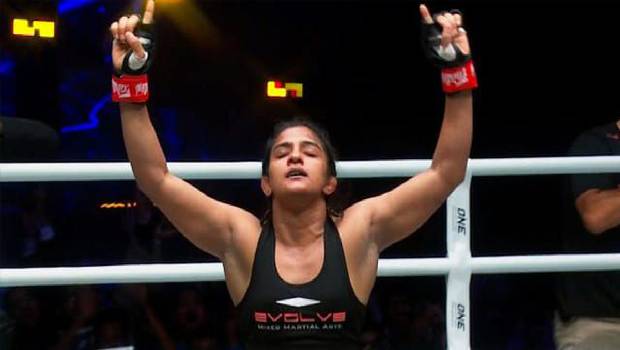 Ritu Phogat, whose father Mahavir Singh Phogat's inspired the nation and whose youngest daughter had shown an interest in the mixed martial art field after bagging India's first silver in Bydgoszcz, Poland for wrestling under 48kg on 2017. Ritu Phogat did turn heads when she announced that her current focus lies on the MMA Championships than the Tokyo Olympics 2020.
One Championship is a sports association that conducts freestyle martial arts for both the men and women between the compatriots. Basically, contestants are from mixed martial arts, kickboxing and muay Thai based fighting styles as per the weight categories like atom-weight, straw-weight, lightweight, heavyweight, etc.
Ritu Phogat who is fondly known as the Indian Tigress has set foot in Singapore's One Championship for MMA title. Ritu Phogat's greatest aim is to place India also in the chart of MMA achievers. Ritu Phogat who had bagged gold in the Commonwealth Games in 2016, a bronze in the New Delhi at the Asian Championship is now working towards the February 28th, 2020 MMA event in Singapore. From South Korea, Nam Hee Kim (Captain Marvel) had bout against Ritu Phogat at the One Championship event under the Age of Dragons banner and also lost to the Indian Tigress in a fair and share November 2019 game. The win recorded by the Ritu Phogat was India's first MMA win.
In the middle of the training, on 12th February 2020, Ritu Phogat arrived at New Delhi for an open workout session. Ms. Phogat along with the trainer sparred to exhibit the techniques of the mixed martial arts to the audience. The next battle Ritu Phogat involved in the mixed martial arts conducted by One Championship is the King of the Jungle.
Ritu Phogat will meet Chiao Chen Wu from Taipei, China, the opponents ranks higher than the Indian Tigress in the record books, yet Ms. Phogat at the interview said that in the November game the win was based on TKO, but on 28th Feb Ritu Phogat would be on hundred percent delivery against the Chinese opponent. Ms. Phogat also added that as much the Indian Tigress respects the compatriot Ritu Phogat aim's to win in the first round and in order to do so the wrestler is training hard for the MMA match on February 28th, 2020.