Wrestl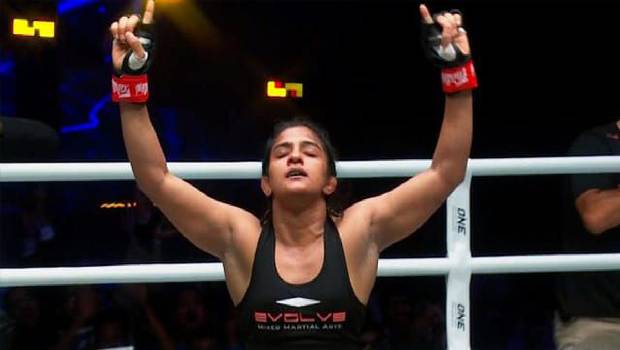 er turned MMA fighter Ritu Phogat is all set to face the Cambodian fighter Nou Srey Pov inside the octagon later this month in the ONE: Inside the Matrix event. Ritu recently spoke about the preparation, anticipation surrounded around the bout as she aims to return victorious out of the cage.
Speaking about her training for the fight during COVID-19 she said that indeed the pandemic affected her training and it has been a challenging transition for her. In the absence of her father and sisters during the practice sessions she agreed that it was difficult to perfect some techniques. Wrestling and grappling sports events were halted because of them n=being contact sports, but her coaches helped her train by sending training videos regularly. Now with the world adapting to the new normal since lockdowns are being eased, it has become better for Ritu as she now started working out in gyms. Ritu is very eager to show the world that Indians are all-rounders with some of her improved striking techniques during the bout.
Ritu now lives in Singapore all on her own for the past one and a half years and has focused her complete training in MMA.
One Championship had previously announced that from next year it would be hosting a Grand Prix tournament which will feature 8 MMA fighters battling for the title. Ritu commented on this as winning the MMA world title is her dream and it is her target to qualify for the tournament and be crowned as the MMA world champion at the end of the Grand Prix tournament.
The 'Indian Tigress' when asked about being called the female Khabib Nurmagomedov by her Indian fans she said it feels amazing since Ritu takes a lot of motivation from him and she aspires to become similar to him in the future. She also said learning how to control the fight through ground moves from watching videos of Khabib. Ritu was asked to name a player who motivates her outside her sport and she named Virat Kohli.
Asked upon how would she want to win the upcoming fight Ritu replied that she aims to break her wrestling mold and try doing something that her opponent would not expect. She wants people and her opponents to know that she is not just a wrestler.