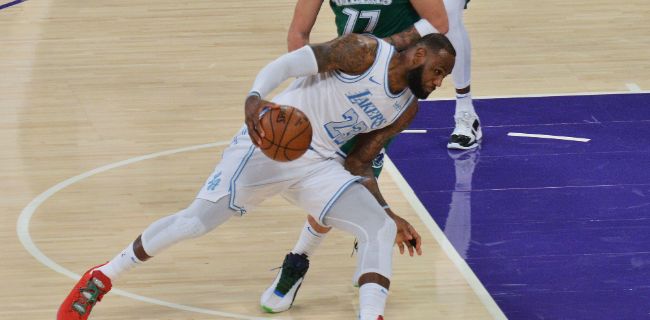 LeBron James became the all-time leading scorer National Basketball Association (NBA), surpassing a long-standing record held by the great Kareem Abdul-Jabbar since 1984. Los Angeles Lakers star James hit 38 points in a 133-130 defeat by the Oklahoma City Thunder to surpass Abdul-Jabbar's mark of 38,387 points set in 1989. The record set by Abdul-Jabbar looked unbreakable, but LeBron James breaking the record, cements his legacy in the sport of basketball forever. James' record-breaking shot came with ten seconds left in the third quarter, lacing the ball perfectly through the net with an iconic James fadeaway shot.
Abdul-Jabbar initially broke the scoring record in 1984, eight months before James was born. The 38-year-old American broke the record that Abdul-Jabbar held for nearly four decades. An emotional James rose both arms in celebration while 75-year-old Abdul-Jabbar, who was at the match at the Lakers' home court, stood and applauded. James finished the match with a career total of 38,390 points. The Lakers' power forward has won four NBA titles, competing in a total of 10 NBA finals.
The American has a career average of 27.2 points, 7.5 rebounds, and 7.3 assists, having played 1409 games over a 20-year-long career that started in 2003. While Abdul-Jabbar took 1,560 games to record his total, James set his record in just over 1,400 appearances. Michael Jordan has the most points per game in NBA history with 30.1. James is fifth on that list with 27.1, just behind another active player Kevin Durant (27.3).
There was a brief break in play for a ceremony to mark the achievement, and James took a microphone to make a speech on the court. James said to be able to be in the presence of a legend and great as Kareem, it means so much to me. Everybody that has ever been a part of this run with me for the last 20-plus years, I want to say thank you so much because I would not be me without all of you. You all helped. Your passion and sacrifices helped me to get to this point, confessed James.
Abdul-Jabbar ceremoniously handed over the ball to James to recognize his new record in front of a cheering crowd that included tennis legend John McEnroe, music star Jay-Z, boxer Floyd Mayweather, and actor Denzel Washington. Abdul-Jabbar said he thought it had every chance of being broken. It just had to have someone that the offense focused on continually.