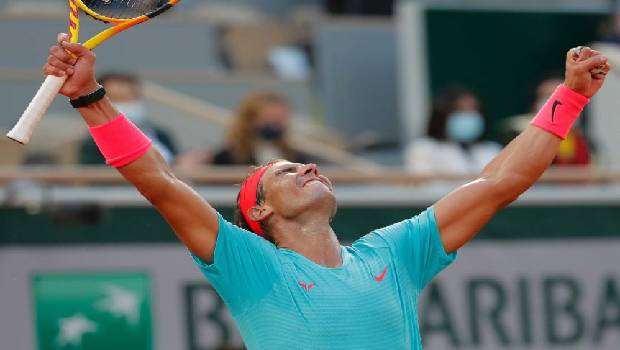 Spain's tennis legend Rafael Nadal won the final of the French Open on Sunday (11 October). He defeated world number one player Novak Djokovic of Serbia in the title match. Nadal won the French Open final for a record 13th time. With this victory, he has won 20 Grand Slam titles. Now with this win, Nadal has equalized Roger Federer, the greatest player in terms of winning the most Grand Slams where he too has 20 Grand Slams to his name.
Rafael Nadal defeated Djokovic 6–0, 6–2, 7–5. Djokovic appeared out of form in this match. After winning the match, Nadal ecstatically sat on the court all the while he smiled and waved his hand in the air in celebration of his historic win. Nadal, the world's No. 2 player, has won 100 matches at the French Open. They have lost in only two matches. He played a total of 26 sem
Nadal in his post-match interview said That to win at Roland Garros means everything to him. He also added that he felt this win as not his 20th Grand Slam or about equaling Roger Federer's record. Rather this win was just any other Roland Garros victory that meant everything for him un his career. He concluded by saying that the love story he has with this city and this particular court is something he will not forget in his lifetime.
After losing his third final at Roland Garros to the Spaniard Djokovic said that this day Nadal has shown the world why he is called the king of clay. He said this match was indeed tough and was outplayed by a better player that tennis has produced.
He won the title four times in a row from 2005 to 2008. It was followed by five consecutive champions from 2010 to 2014. Nadal has won the Wimbledon twice, US Open four times and the Australian Open once. Nadal has reached the equivalent of Federer for the first time in 17 years in terms of winning the most Grand Slams. He started his career in 2003. On the other hand, Djokovic missed out on winning his career's 18th Grand Slam title after the loss.