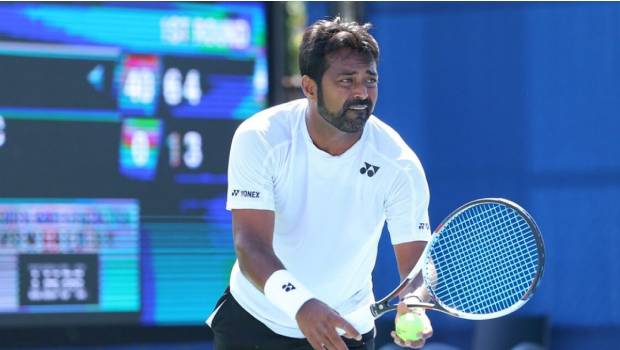 Indian tennis icon Leander Paes recently said he is preparing hard to participate in his eighth straight Olympic appearance in next year's Tokyo Games. Earlier in 2019 Christmas Paes announced his 'One Last Roar' tagline, saying 2020 will be his last season as a professional player ending with the Tokyo Olympics.
During a promotional event said no one expected to face a pandemic but he feels happy to have this long break as he is confident of being ready both mentally and physically.
He emphasized for him ensuring India's name in the history books is high priority and that is the reason that he has continued his career for 30 years.
Paes would be 48 years old during the Tokyo Olympics and he said he has the motivation to participate in an eighth Olympics. By doing so Paes believes India will stay forever in the history books as the most number of Olympics played in tennis.
Paes gave India its first Olympic medal in tennis at the 1996 Atlanta Olympics which still remains as the only medal to have come from the sport for the nation.
Speaking about the age he said it is just a number. A tennis ball doesn't understand age but only power and spin.
Asked whether he would prefer Divij Sharan or Rohan Bopanna to partner in the Olympics, Paes said he has partnered with Mahesh, Rohan, Sania in the Olympics and all he wants is India to be represented to get the world record of the eighth appearance. Be it Rohan, Divij or Ankita Raina he's fine with anyone.
The winner of 18 Majors further said he's looking to achieve another milestone of making it a century of Grand Slam appearances in the main draw. Paes already holds a Davis Cup record for most doubles' victories at 45, a feat achieved this year. Paes who is now three shy of his 100th Grand Slam appearance said he wouldn't rest until he reaches that feat.
He is currently waiting for the calendar to come out. As with the Australian Open already being pushed back, he is still doesn't know whether it would happen or not. Paes concluded by saying that he hopes the vaccines are distributed fast so everyone can get back to their daily lives.