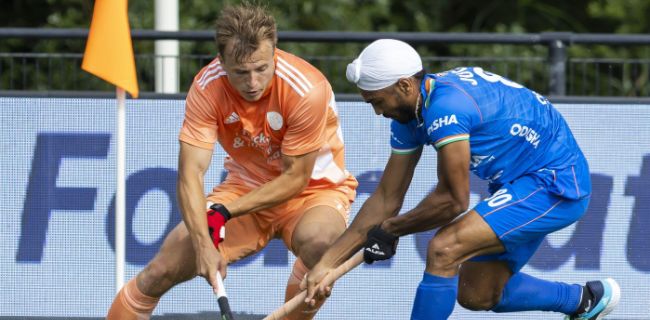 India continued their fair run in the FIH Pro League, registering a comfortable 6-3 win over the world champions Germany to claim the top spot in the standings at the Birsa Munda Stadium in Rourkela on Monday. Men in blue recorded their second win over the Germans in three days and the victory helped Harmanpreet Singh-led side to jump to the top of the table with 17 points from seven matches, ahead of Spain on goal difference.
Coming from a thrilling 5-4 win against Australia, team India looked to continue with the winning momentum. But India conceded an early goal when Tom Grambusch gave his side a third-minute lead by converting a penalty corner. However, India leveled the score through Jugraj Singh in the 21st minute from a penalty corner. Jugraj's power beat the German keeper Stadler. The ball was fired straight down the middle and it crept in between Stadler's feet.
Abhishek made it 2-1 in the very next minute, India played an aerial scoop which the German defense failed to clear. Abhishek pounced on it, entered the circle, and smashed the ball past the German keeper. The match was made so interesting as the Germans scored their second in the following minute. Peillet kept the drag flick low and the ball kept going away from Indian keeper PR Sreejesh. Sreejesh extended his foot to make a save but the ball went too wide.
Indian players turned the game into an exciting one as Selvam Karthi scored India's third in the 24th minute. Gurjant with world-class skill on the left side of the German circle fired the ball into the goal and Karthi just managed to change the direction of the ball with a gentle tap. India led again and it was goals galore in Rourkela.
Indian captain Harmanpreet scored his 11th goal in the FIH Pro League in the 26th minute. He angled the ball into the right side of the goal where Stadler had no chance to make a save. India went into the break with a two-goal lead. Germany upped the ante in the second half and a counter-attack helped Hellwig to find the net. But Karthi scored his second to make it 5-3 after Grambusch failed to defend an easy ball. Five minutes later, Abhishek scored his second to seal India's third win on the trot.
India would love to complete the sweep when they take on Australia in a reverse-leg fixture on March 15 (Wednesday).