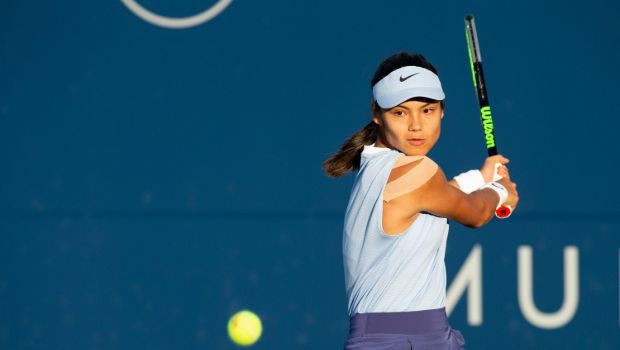 British ace Emma Raducanu cruised past Sloane Stephens in her first-round match at the Australian Open debut. Emma Raducanu sealed a 6-0, 2-6, 6-1 victory over the former US champion at the Margaret Court Arena. The teenager came back strong from a second set blip to surpass her American opponent. Raducanu registered a solid win after facing a disappointing ending to the 2021 season.
Four months from her remarkable US Open triumph, the British no.1 produced a flawless first set before the experienced Sloane struck back in the second. However, the US Open champion regained her composure and momentum in the decider set to clinch a confidence-boosting victory. Raducanu will hope to continue her winning run and be a tough contender for the Women's singles title.
The 19-year-old Raducanu made a sensational and phenomenal start to her Melbourne campaign, and racing through the opening set in a perfect 17 minutes. Raducanu lost only four points on her serve and won 24 in a blistering first set. Emma Raducanu looked so determined to not go out of round one. Stephens found it difficult to match with the powerful ground-strokes coming from the British ace.
The 17th seeded player is playing her fifth tournament since the US Open and managed only two wins in the previous four. She lost her opening match three times. The 2017 US Open champion shrugged off the negatives and made a strong comeback in the second set. Stephens played brilliant to win four games in a row from 2-2 and forced a decider for Raducanu.
Stephens is always known for her habit of rising to the occasion in big tournaments. Earlier she defeated Petra Kvitova, Coco Gauff, Karolina Pliskova, and Madison Keys at the last season Grand Slams. However, Raducanu responded remarkably and showed great resilience to dampen Stephens' momentum. Raducanu used her skills and power-packed shots to take control of the match. She took a commanding 4-0 lead in the decider set.
Stephens never made it easy and stopped the rot with good returns. Finally, Raducanu outclassed Stephens after battling for an hour and 45 minutes. Raducanu will be up against Danka Kovinic of Montenegro to find a spot in the third round.
Emma Raducanu's fellow 19-year-old Leylah Fernandez took a defeat in the first round. The Canadian ace went down 6-4, 6-2 to Australian wildcard Maddison Inglis. The home crowd was delighted and cheered with joy after Inglis secured a dominating victory.