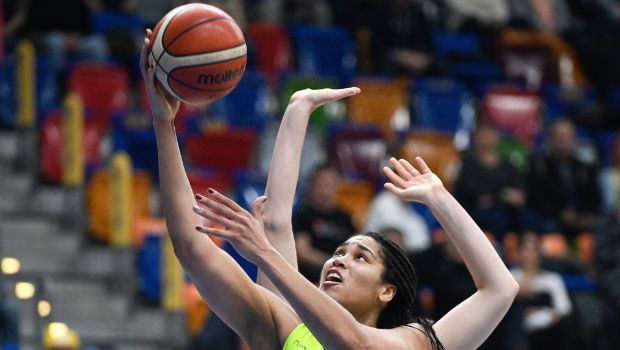 The United States women's basketball team put on quite a stunning performance in Australia on Monday. Team USA broke the FIBA Women's World Cup scoring record in a dominant 145-69 win over South Korea in the group stage match. The United States women topped the previous record, held by Brazil, of 143 points, which was set back in 1990 against Malaysia.
Brionna Jones led the way for the Americans with 24 points on 12-of-14 shooting from the field. Jones was one of eight U.S. players who scored in double-digits. Newly minted WNBA champion and MVP A'ja Wilson chipped in 20 points on 10-of-11 shooting from the field. In addition, Shakira Austin converted a layup with just nine seconds remaining in the game to put the United States atop the record books. Hyejin Park led South Korea with 17 points on a 7-of-8 shooting.
Additional records that the Americans broke were 62 made field goals, 36 assists, and 94 points in the paints. In addition, the United States bench also tallied 88 points from its bench, which was 19 more than the South Korean bench. The U.S. women also surpassed their own previous team record of 119 points, which came against Angola in 2014 and China in 2004. Additionally, the scoring margin was the biggest in American basketball history.
The phenomenal victory also marked the 26th consecutive FIBA World Cup victory for the United States, who have not been on the losing end of a game since the 2006 semifinals when they went down to Russia. The U.S. women matched the team's previous record of winning 26 consecutive games from 1994 to 2006. The Soviet Union currently holds the FIBA World Cup record with 56 consecutive wins, which they accomplished from 1959 until 1986.
After registering a remarkable win, Wilson said she does not think that she has ever been part of a team that can score the basketball like this. Wilson admitted that the entire game was crazy and she feels happy for knowing how talented her team is. She concluded that all players played together very well.
The U.S. qualified for the quarterfinals on Saturday after beating China, Puerto Rico, and Belgium. The U.S. women lead all teams with an average of 103.8 points per game in Australia. The Americans will play Bosnia and Herzegovina in the final group stage game on Tuesday, then the quarterfinals start on Thursday.