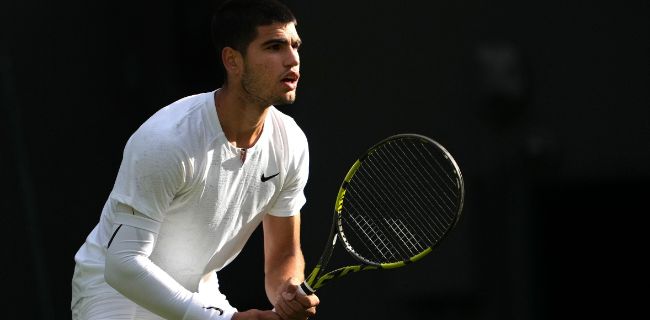 Spain's two world-class star players Rafael Nadal and Carlos Alcaraz have pulled out of the 2023 Monte-Carlo Masters, leaving the tournament devoid of two of the biggest seeds in world tennis at the moment. On Tuesday (April 4), the Spaniards took to social media to announce their withdrawal from the first Clay Masters 1000 event of this season. The Monte-Carlo Masters tournament begins on April 8 and the summit clash will be played on April 16.
Nadal has prolonged his period of recovery saying that he is still not prepared to compete at the highest level. Unfortunately, I am not yet able to play with maximum guarantees, added Nadal. I continue my process of recovery and preparation, hoping to return to competition soon, Nadal concluded on a hopeful note.
The 22-time Grand Slam champion has been sidelined from tennis since his shocking second-round exit in Australian Open. The 36-year-old Spaniard suffered an injury in that match which was later identified as a grade 2 injury in the iliopsoas muscle in his left leg. Nadal had then missed the entire hardcourt swing but was expected to make his return with the start of the clay court season.
Nadal has won the Monte Carlo tournament a record 11 times, including an Open Era record streak of eight consecutive titles from 2005- 2012. The Spaniard generally uses the clay-court event as a warm-up tournament for the French Open, which takes place May 28-June 11. Nadal has won 14 of his major titles on clay at Roland Garros, including last year while dealing with chronic pain in his left foot.
World No.2 Alcaraz pulled out because of physical discomfort after his shocking semifinal loss to Italy's Jannik Sinner in Florida last week. The 19-year-old Spaniard had been so dominant recently as he had not lost a set since February 2023 before that defeat in Miami Open. Alcaraz expressed that he had to withdraw from the upcoming Monte-Carlo Masters after the exhausting three-hour battle took a toll on his body, I have post-traumatic arthritis in my left hand and muscular discomfort in the spine that needs rest to prepare for everything that is to come, the teenager said.
Seventh-ranked Felix Auger Aliassime has also withdrawn from the event. I have been struggling with my left knee for the past few weeks and decided it was the smartest decision to take some time off so I am able to fully heal and recover, the Canadian wrote on Instagram.