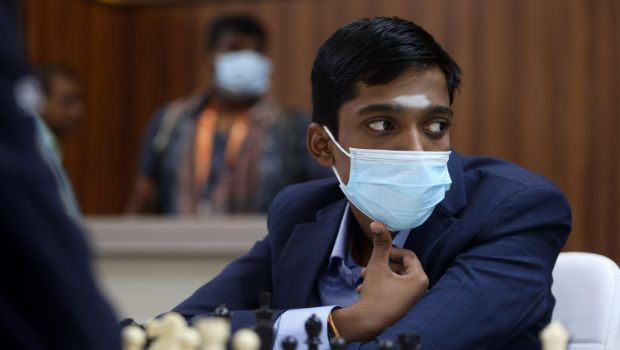 After 35 moves, the first game of the FIDE World Cup final between India's Praggnanandhaa and World No. 1 Magnus Carlsen resulted in a draw. Pragg, who was playing with white pieces, was ahead in time at the start of the battle but was unable to extend his lead and found himself in time difficulties by the finish. Both players will return to the final for Game 2 tomorrow. Praggnanandhaa defeated World No. 3 Fabiano Caruana via a tie-break in the semifinals on Monday, setting up a showdown with Carlsen at the FIDE World Cup.
Thanks to making it to the final, Praggnanandhaa became the third youngest player to qualify for the Candidates event, following the famous Bobby Fischer and Carlsen. Nijat Abasov of Azerbaijan overcame Caruana to take a 1-0 lead in the other game of the day to determine the third-place finisher. Carlsen mentioned after the game that he had a couple of hard days in Baku due to food poisoning after his semi-final win over Nijat Abasov.
The youngster, playing with white pieces, tried a different approach in the opening, which looked to have confused Carlsen who fell back on time, trying to decide his moves. Pragg moves around a bit with his openings. I didn't really know what to expect. I didn't prepare for c4 (the first move played by Praggnanandhaa). Then I started to play some common-sense moves, Carlsen admitted after the game.
With the way that Carlsen has been going in this tournament, it's clear he's decided that he's going to win one of the Classical games and avoid going into tiebreakers, GM Pravin Thipsay said. Thipsay says the shorter the format, the better Praggnanandhaa's chances are.
Carlsen is flawless at rapid and blitz when he's dealing with players of his generation. We saw that isn't necessarily the case when he's facing the younger generation. That's why Praggnanandhaa must defend well with black pieces on Wednesday to take Carlsen to tiebreakers.
I'll go even further and say that Praggnanadhaa must try to take Carlsen to the 10-minute game or even the blitz. Praggnanandhaa's strength lies in his ability to spot moves quickly, the Indian player added.
Carlsen is one of the rare examples of a chess player who converted his early talent to become a world-beater. The Norwegian once held Garry Kasparov to a draw and took down GM Anatoly Karpov as a teenager even before he was a grandmaster. The 30-year-old star became the second-youngest GM in history.