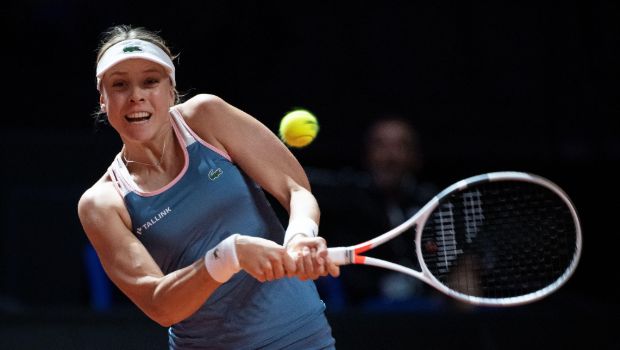 Anett Kontaveit surpassed Maria Sakkari 5-7, 7-6 (4), 7-5 in the final of the St. Petersburg Ladies Trophy to secure her fourth straight indoor title. The second-seeded Kontaveit took nearly three hours to beat the top-seeded Sakkari. The Estonian ace claimed her 6th career title after recovering from being a breakdown in the second and third sets. Anett Konaveit registered her 20th consecutive indoor win, which includes her title runs at Ostrava, Moscow, and Cluj-Napoca at the end of last season.
It is the longest indoor winning streak on the women's tour since Justine Henin won 22 in a row between 2007 and 2010. Konaveit and Sakkari have met 12 times and split the wins evenly. However, the Estonian was considered as the favorite as she was in superb form indoors. Initially, Kontaveit looked to continue with that fine form and frustrated Sakkari with some tremendous shot-making. She had complete control and led the opening set 5-2.
But the Greek player never looked down and fought back strong to get into the game. Sakkari gained confidence as Kontaveit started to miss a bit more. Sakkari broke back to level the scores at 5-5 and pulled ahead with pace to win the opening set 7-5.
Sakkari continued with the momentum and started to play much better as Kontaveit missed and rushed with her shots. The Greek player troubled the Estonian with her superior athleticism and front-court game. Sakkari went up 2-0 as Kontaveit swung late on her groundstrokes. However, Kontaveit held and broke back to make it 3-3. Though Kontaveit lost seven straight games, she fought hard to stay in the battle. Eventually, the second set ended up in a tiebreaker with Kontaveit winning it 7-4.
Sakkari pulled herself and played brilliantly in the decider set to earn a 3-0 lead. The Greek ace played with aggression to extend that lead to 5-2. Serving for the match at 5-3 in the decider set, Sakkari delivered her worst game of the day and was broken by the Estonian. Kontaveit battled back from that and made it 5-5. Kontaveit grabbed the chance and lifted her level from thereon. Kontaveit held her nerve to win the decider when she served at 6-5.
Though Sakkari controlled the match in both the 2nd and 3rd set, she threw away both sets by melting down in crucial moments. She was very close to winning her first trophy since 2019 in Rabat but ultimately watched Kontaveit lifting the trophy.