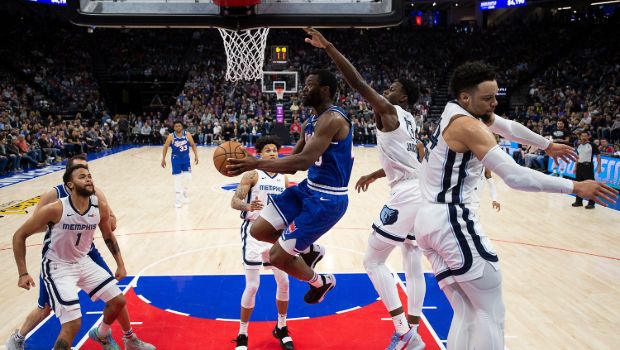 Memphis Grizzlies recorded a memorable big win by defeating the Jazz in Utah. Memphis Grizzlies tasted a narrow 119-118 win against Utah Jazz at Vivint Arena. The Grizzlies' players held their nerves in the closing second of the game to edge past the Jazz. Grizzlies (9-8) registered its first regular-season win in Utah since 2018. Grizzlies bounced back and delivered an outstanding performance after a 43-point loss to Minnesota Timberwolves on Saturday.
Grizzlies produced an unexpected play against a team, which has good winning records. Ja Morant and other players of the Grizzlies had a 90-minute team meeting to clear the air. It was time for another Spartan to have a star-making moment on a tough battle. Jaren Jackson Jr. almost single-handedly sealed an unforgettable win to the Memphis Grizzlies. Grizzlies coach Taylor Jenkins did not call for a timeout in the final minutes and left it to his players to win the game.
With just 14 seconds left in the game, Jackson won a jump ball against the massive Rudy Gobert. Ja Morant drove down the lane into the middle, drawing the defenders away and freed up Jackson for an open shot. Jackson hit a perfect game-winning three-pointer with just 5 seconds left and earned the victory for the Grizzlies.
Ja Morant was the star for the Grizzlies with 32 points, four rebounds, seven assists, and two steals. Desmond Bane added a career-high 28 points with four rebounds and four assists. Jackson ended up with 26 points, 8 rebounds, 2 blocks, and 2 steals in the victory. The electric point-guard Morant played a crucial role towards the end and his shooting stroke was excellent. The trio played brilliant and secured their third win in the last four games.
Bojan Bogdanovic played with lightning speed and led the Jazz by scoring 24 points. He made a season-best seven three-pointers. Bojan hit back-to-back jumpers from beyond the arc to put the Jazz in a commanding position in the final two minutes. Gobert notched up 23 points and 13 rebounds. Mike Conley and Donovan Mitchell contributed 19 and 18 points each to their side.
The Grizzlies scored nine straight points and went up for the first time in the second half. Tied at 112, Gobert was clever and blocked Morant's floater. Royce found Bogdanovic for a timely transition 3-pointer. The Croatian sharpshooter drained a step-back three-pointer and helped his team to take a 118-112 lead. Though the Jazz had three straight possessions, they failed to execute well.