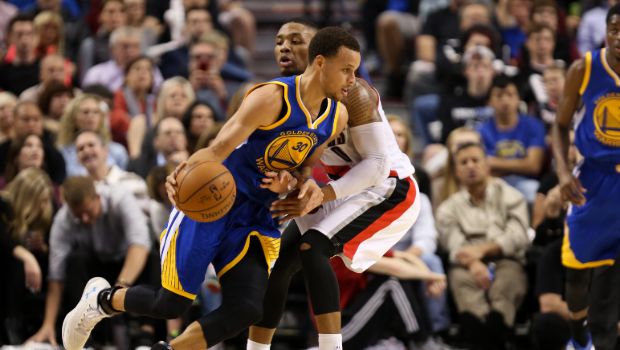 The Golden State Warriors announced their re-entry into the championship campaign by defeating the Los Angeles Lakers at Staples Center. The second game of the 2021-22 seasons did not disappoint the crowd as the Golden State Warriors roared to pull off a 121-114 comeback win over the Lakers. The Lakers remain winless on opening night in the LeBron James era.
The Warriors sealed the win with five players scoring in double figures. While the star players of the Lakers LeBron James and Anthony Davis scored 67 combined points, the rest added only 47 to the score-sheet. The Golden State Warriors will get much stronger when Klay Thompson returns to the team.
Stephen Curry looked to be at his best and led the Warriors by scoring 21 points. Curry, a two-time MVP, scored a triple-double. He was brilliant on the court with 10 rebounds and 10 assists. Jordan Poole surprised everyone by scoring 20 points. Damion Lee and Nemanja Bjelica added 15 points each.
The Lakers superstars LeBron James and Anthony Davis delivered an excellent play and scored more than 50 percent of their team's total. James starred with a game-high 34 points and 11 rebounds. Davis scored 33 points with 2 assists and 11 rebounds. The rest of the players failed to reach the double-figure.
Both teams scored points quickly in the first quarter and made the game more exciting for the fans. The Warriors trailed by just two points. Russell Westbrook got his first bucket as the Lakers led 48-43 midway through the second quarter. Despite the Laker's dominance, the Warriors fought well to stay in the contest. The trio of Andre Iguodala, Bjielica, and Lee combined for 20 points. The Lakers finished with a lead of 6 points at halftime.
Jordan Poole scored his first triple to make it as 61-61 at the start of the third quarter. LeBron and Davis connected well and played with a deft touch pass to get a 7-0 run for the Lakers. Curry slipped and was found to injure his ankle, but luckily he was back on the floor. It's been a tough night shooting the ball for the Warriors since they were under constant pressure from the Lakers' defense.
However, Curry and Poole kept their side on the run by adding points. The Warriors went into the final quarter trailing by just two points. Curry scored cleverly and helped the Warriors to take the lead with nine minutes remaining. Other players of the Golden State combined well to make it a 15-5 run and took a 98-90 lead.
Bjelica served as a playmaker by hitting one triple on a single attempt. He made an important pass to Andrew Wiggins, who scored an open triple during the final stretch of the contest. The Warriors troubled the Lakers with their ball movement and created open shots. Finally, the Warriors earned a hard-fought win.