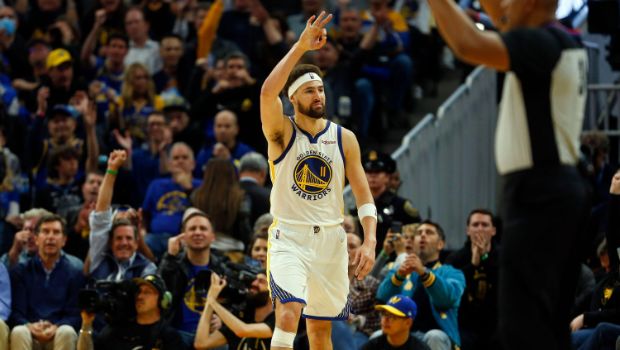 The fireworks that started on the eve of New Year are still on the line as Golden State Warriors and the Atlanta Hawks played one of the most exciting and last-minute encounters at Chase Center. Golden State Warriors played in an absolute thriller and produced an excellent comeback to blow away a 21-lead held by the Hawks. The Warriors delivered their best to overcome a late eight-point deficit and then held their nerve to edge past Hawks 143-141 in double overtime, the team's first game of 2023.
The emphatic win gave the Warriors a five-game winning streak, which is a season-best. The Warriors are proving to be one of the best teams to defend their NBA title, despite the fact that their star players Stephen Curry and Andrew Wiggins have been sidelined for all five games. In a hard-fought battle that seemed like it would never end, Klay Thompson produced one of the best performances of his career while Kevon Looney hit the game-winner.
Thompson led the Warriors with a season-high 54 points on 21-of-39 from the field with eight rebounds, three assists, and a block in 46 minutes. Both teams traded leads throughout the game, but the Hawks managed to hold a three-point lead over the Warriors with just nine seconds left in the clock. Coming out of the timeout, Thompson had a good opportunity to tie the game but missed it.
The defending champions got yet another chance after an offensive rebound, but Dejounte Murray did well to block Jordan Poole's attempt to tie the game. However, Donte DiVincenzo rescued his side rescue when there was a third opportunity. The Warriors' guard drilled a deep 3-pointer with just seconds remaining to send the game to overtime with scores tied at 121.
Despite the game going to overtime, one extra period was not enough for the Warriors and Hawks. The game headed to double overtime as Thompson and Trae Young traded crucial buckets. The game came down to the final seconds again in the second overtime too. A brilliant triple from Green helped the Warriors to have a five-point advantage with under a minute to play. Young and Murray responded well to tie the game at 141 with eight seconds remaining.
On the final possession, Thompson's jumper from beyond the arc rimmed out, but Looney was not finished. After two offensive boards, Looney produced a heroic putback at the rim and clinched a famous win for the Warriors.