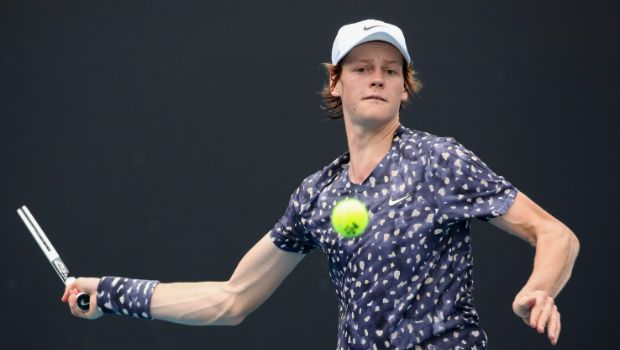 Italian top seed Jannik Sinner reached the semi-finals of a Grand Slam for the first time after defeating the powerful Russian Roman Safiullin 6-4, 3-6, 6-2, 6-2 in the Wimbledon quarter-finals. The eighth seed Sinner capitalized well on a favorable draw at the grass-court major tournament this year. The young Italian accomplished a rare feat by becoming the first male player since Boris Becker and Pete Sampras in 1995 to reach the final four without facing any opponents ranked in the top 50. Sinner became only the third Italian player, after Nicola Pietrangeli and Matteo Berrettini, to reach the Wimbledon semi-finals, but he had to overcome a hiccup against the inspired Safiullin midway through the match.
Although both players started the match with high intensity, Sinner managed to secure a crucial break for a 5-4 lead in the first set by delivering a barrage of powerful shots from the baseline. He then comfortably held his serve in the subsequent game, taking a one-set advantage over his Russian opponent.
Despite losing his serve early in the second set, world no.92 Safiullin did not let his spirits drop, and the Wimbledon debutant reeled off five games in a row from 1-3 down to tie the match. Sinner won the next set in 34 minutes, and the match was effectively over when he broke for a 4-2 lead in the fourth set, which he won when Safiullin hit a wide shot. The 21-year-old Sinner will next face defending champion Novak Djokovic in the semi-final.
It means a lot to me. We put a lot of work in, many hours also off the court, a lot of sacrifices for this moment so it means a lot for me and it means a lot to share it with you guys, Sinner said after winning the quarter-finals. It's a nice moment for me. I just try to play my tennis. Every match has a little bit of its own story and obviously, I'm very happy to be in the semi-finals, the Russian added.
I'll go on to the court with a good mentality. I know Novak hasn't lost on Centre Court in 10 years, so it's going to be a tough one. But who knows, maybe it's my day, he expressed. I'm just trying to rest and enjoy one of my most important matches until now, it's going to be a special moment, he concluded.