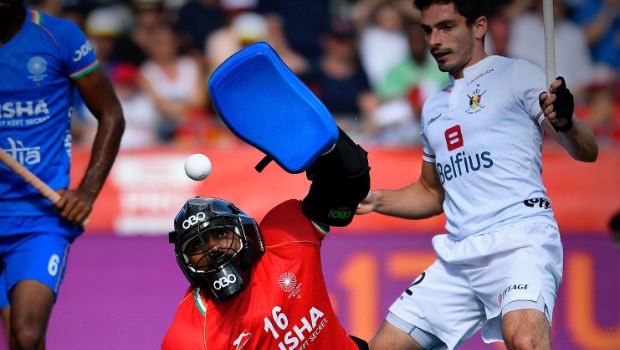 Hosts India was knocked out of the ongoing 2023 Hockey World Cup after losing their must-win crossover match against New Zealand at the Kalinga Stadium on Sunday. It was a huge disappointment for the Indian men's hockey team as they lost the thriller 4-5 in the penalty shootout after both teams were locked at the score of 3-3 in regular time. The disappointing end to the game saw thousands of Indian fans inside the stadium walk out in utter despair. New Zealand produced a fine performance when it mattered the most and won the important clash to cruise into the knockout stages.
Losing their star goalkeeper P.R.Sreejesh for the last three shots through injury was a major setback for India. Though Krishan Pathak did his best, Indian attackers fumbled under pressure. India ranked sixth in the world, produced a below-par performance, and allowed the black sticks to claw into the game after taking a two-goal lead twice in the match.
Both teams started well and played an attacking game but failed to score in the first quarter. India managed to take a lead with an opener in the 17th minute through Lalit Kumar Upadhyay. A few minutes later, Lalit missed out on scoring during a penalty corner. However, Sukhjeet Singh doubled India's lead in no time.
Three minutes later, New Zealand found a way to find the net through Sam Lane and made it 1-2. Varun Kumar scored India's third goal in the 40th minute of the game. He did well to convert a penalty corner and gave his side a two-goal cushion. A 3-1 lead looked good on the scorecard as everyone thought that India would make it to the last eight. But the happiness on the faces of Indian players and fans was short-lived as Kane Russell converted a penalty corner into a goal very soon.
New Zealand managed to get yet another penalty corner in the fourth and final quarter, and this time Sean Findlay found the ball off the rebound in the 49th minute and leveled the score 3-3. However, before the regular time ended, India got a chance to take a lead but failed to capitalize on it.
India will now play Japan in the 9th-16th position game on January 26. On the other hand, New Zealand will face Belgium in the quarter-finals. India has been waiting for the World Cup trophy for 47 years, and with the loss, their wait continues.