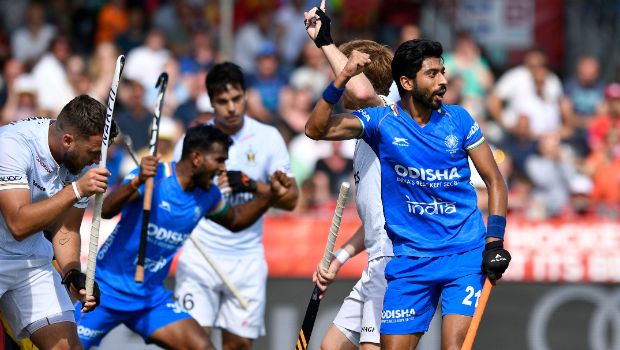 India defeated Wales 4-2 in their final group match at the Kalinga Stadium on Thursday. With this win, the men in blue managed to finish second in Pool D of the FIH men's Hockey World Cup 2023. Midfielder Shamsher Singh, Akashdeep Singh, and Indian captain Harmanpreet Singh scored the goals for India to ensure that their side clinches all points while Gareth Furlong (43′) and Jacob Draper (45′) netted for World Cup debutants Wales.
India was cruising to victory at one point before World Cup debutant Wales fought back bravely to nullify a two-goal deficit in the third quarter. But India scored two unanswered goals in the final quarter to deny Wales the first point in the World Cup. However, the men in blue failed to earn a direct entry ticket for the quarter-finals as England outclassed Spain 4-0 and claimed the top spot in Pool D to qualify directly for the quarter-finals. Both England and India stand equal on seven points but the former's superior goal difference of +9 compared to the latter's +4 has sent the Englishmen into the last eight.
Teams finishing at the top of the four Pools (A, B, C, D) will advance to the quarter-finals while the teams finishing second and third in their pools will play crossover matches to earn a berth in the remaining four quarter-final spots. And India will now play New Zealand, who came third in Pool C, in the crossovers to secure a place in the quarter-finals.
Shamsher unleashed one hard to give India a deserved lead in the 22nd minute. Both teams tried their best to find the net, especially India continued to play an attacking game but failed to score goals. The horn was blown to signal the end of the first half and Shamsher's strike proved to be the difference between the teams.
India started the second half well by scoring their second through Akashdeep. Mandeep Singh brilliantly cut in from the right dragging a couple of defenders his way before releasing the ball to Akashdeep, who produced a powerful shot to make it 2-0. But the Welshmen never went down and continued to fight hard. As a result, Wales stunned India with twin strikes in a span of two minutes. Both goals came from penalty corners. However, Akashdeep rescued India by scoring a fine field goal in the 45th minute. Finally, Harmanpreet converted a penalty corner in the 59th minute to seal the win.