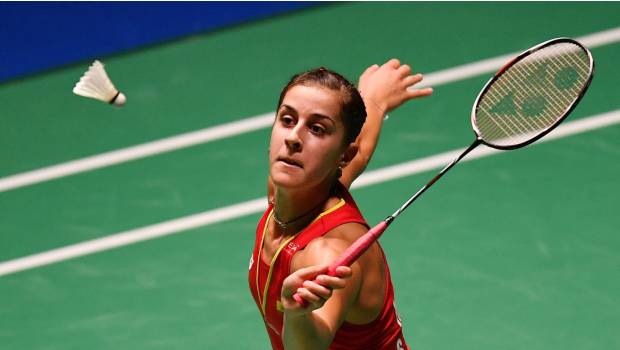 Defending Olympic champion Carolina Marin supported her odds of shielding in Tokyo in the not-so-distant future in the wake of winning the Thailand Open in Bangkok on Sunday against Tai Tzu Ying. Despite having a fever, fourth seed Viktor Axelsen of Denmark played marvelously in the men's final to win the title in straight sets against Hong Kong's Angus Long.
Former world number one Spaniard Marin was impressive with sharp smashes, shrewd net work and agility at an unparalleled degree. She won the game point in the second set after bulldozing her 26-year-old rival from Taiwan 21-9, 21-16 out of 42 minutes.
Marin said she wanted to show her opponent the intent to win from the beginning. Tai admitted she found it tough to match the speed and was not up to the mark. Tai added Carolina was always aggressive and quick as that is her playing style and that Carolina put a lot of pressure on her.
Marin who is the first non-Asian woman to win a badminton gold in Olympic had to put up a great battle to recover from a knee injury in time to defend her title in Tokyo. On the other hand, Axelsen won by 21-14, 21-14 against Long.
Axelsen after his victory said he knew that he had to be at his best going into the final as he has not played for so long and is really happy that he managed to win.
Long admitted he only gave his 70% and not his best. He added saying with the first tournament of 2021 and he certainly did not expect to qualify till the final.
It was continuous wins for Axelsen in the wake of winning the All-England Badminton Championship in mid-March. Amongst the three consecutive tournaments, the Thailand Open is the first which will end the trio with the World Tour Finals from January 27.
The players have been going head-to-head in a bio-secure air pocket, despite the fact that the competition has been eclipsed by three positive Covid cases.
Indonesia's Greysia Polii and Apriyani Rahayu were top-notch for Thailand's Jongkolphan Kititharakul and Rawinda Prajongjai as they won the pair by 21-15, 21-12.
In the men's doubles, Taiwan's Lee Yang and Wang Chi-Lin beat Malaysia's Goh V Shem and Tan Wee Kiong 16-21, 23-21, 19-21. The next tournament starts Tuesday.