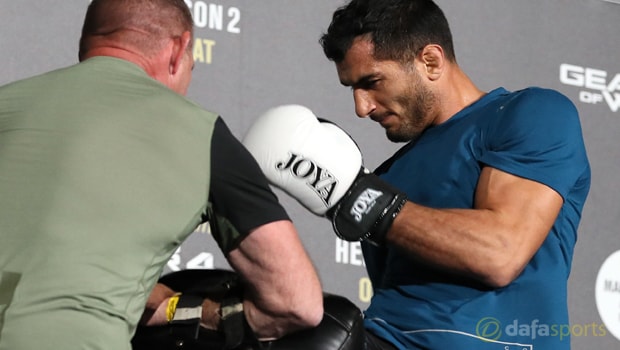 Number five-ranked middleweight contender Gegard Mousasi says he is "very confident" of winning his next fight and will drive through anyone that gets put in his way.
Mousasi has been in stunning form as of late and he made amends for the loss against Uriah Hall in September 2015 by dismantling his Jamaican opponent last November in the rematch.
The 31-year-old, whose current record stands at 41-6-2, recorded a first round KO/TKO victory and the impressive performance has certainly got the heads turning.
He has now extended his winning run to four matches, having disposed of Thales Leites, Thiago Santos and Vitor Belfort prior to the triumph over Hall.
The Dutchman is now turning his attentions to the next opponent and he admits he is aching to get back into action, sooner rather than later, against a top contender.
Mousasi has been calling out the high-profile names after every fight, from former champions Chris Weidman, Luke Rockhold and Anderson Silva to number six-ranked Robert Whittaker.
It was recently confirmed Silva would take on Derek Brunson for UFC 208's co-main event feature and this decision has not gone down well with The Dreamcatcher.
But, whatever happens, Mousasi, who says he will take on anyone from number one to 15, is adamant he will be making it five victories on the bounce in his next bout.
"I will win. It's as simple as that. I'm going to win. I'm very confident," he said.
"They can look at my past losses and get confident off that but I'm in a good place right now and nobody is going to beat me."