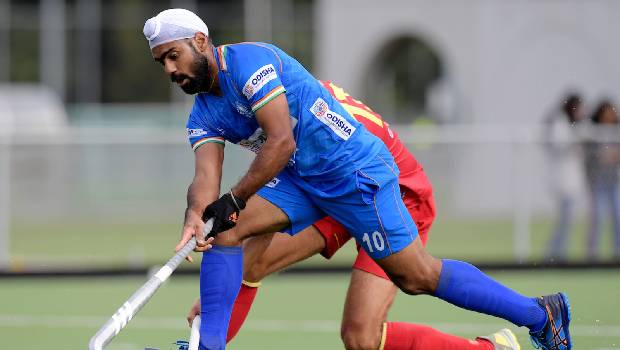 India registered a 5-4 win against Germany in the men's hockey bronze medal match. The Indian men fought hard with a never-give-up attitude to secure a historic win. This victory against Germany made the Indians end their 41-year long wait for a medal at the Olympics. India won its 12th medal in the Men's hockey tournament at the Olympics. They have won eight gold medals, one silver, and three bronze in the Olympic Games.
India was a superpower nation in the Olympics hockey tournaments as it won consecutive six gold medals. Indian men edged past the Germans in a high-scoring thriller game. Indian midfielder Simranjeet Singh scored twice while Hardik Singh, Harmanpreet Singh, and Rupinder Pal Singh scored one each.
As the match started, Germans went quickly inside the Indian circle. Timur Oruz received a pass from Florian Fuchs and scored it easily even though a couple of defenders were around him. Germany took an early lead 1-0 just in the 2nd minute of the game. The umpire raised a green card for Constantin Staib, who had a poor challenge with the Indians.
India scored the equalizer at the start of the second quarter. Nilakanta Sharma with the ball escaped a couple of tackles and sent a pleasing pass to Simranjeet Singh, who found the back of the net. Germans moved very fast towards the target as they got possession of the ball. Niklas Wellen pushed a perfect shot into the nets and made it 2-1 for the Germans. In the very next minute, Indian defender Surender Kumar made a mistake inside the circle and helped Benedikt Furk to extend the lead.
India scored their second from a penalty corner. German keeper Alexander Stadler made a save initially, but Hardik Singh pushed the rebound ball into the net. India got another penalty corner in the 29th minute, this time Harmanpreet Singh scored with a brilliant drag-flick. The second quarter was the most exciting period as both teams rained goals.
Rupinder Pal Singh converted a penalty stroke to make it 4-3. India took a 5-3 lead in the next three minutes. Gurjant Singh entered the circle with a delightful run and sent a pass to Simranjeet Singh. The latter completed it with a sharp finish from a close range. Indian men scored four goals in just seven