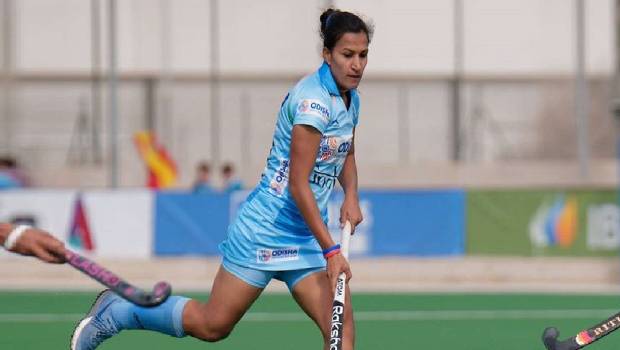 At Auckland, New Zealand the Indian women's hockey team matched against Great Britain on 4th February 2020. The Indian women's hockey team had lost two matches against New Zealand's team as 2-1 on 27th January 2020, and 1-0 on 29th January, but the Indian women's hockey team won big on the first game against New Zealand development team as 4-0. Now the women's hockey team is to face them again on 5th February 2020.
Meanwhile, the Indian women's hockey team with the Rani Rampal's 47th-minute volley the Indian women's team tasted a win. With a strong defending technique used against Great Britain, the Indian women's team scored the first and last point in the match. India Vs Great Britain women's hockey match's triumph is a progressive win for the players, the step by step execution to break through the opponent's pass placed both the hockey teams under pressure at the game field.
Indian women hockey players began their passes with planned efforts led by their team head Rani Rampal. The Indian women could witness the efforts rewarded with the Great Britain women's by countering their defence technique. Noticing that, the Indian women's hockey team stayed focus by defending their pass, this gained a penalty corner for the Indian team but the goal got blocked so the first half eventually came to an end with a draw on the scoreboard.
The match had complicated passes between the Great Britain team, by edging the Indian women's to open a spot to goal. But the Indian women's blocked their opponents strike with fierce by leading to another penalty shot for the team. The Indian team again failed to send the ball past Great Britain's goalkeeper, so the women's hockey skipper was put in a situation to improve the game against their opponent.
In the 47th minute, Rani Rampal brought the Indian hockey women's to a formation and hit a bold strike that went past the Great Britain goalkeeper and gained a point. The Indian hockey coach Sjoerd Marijne said their defending technique helped, yet the team still has a huge space to advance. The win against the Great Britain team will serve as a boost for the New Zealand game on 5th Feb 2020, and by handling the match with patience the women's hockey team could dominate the games in the future.