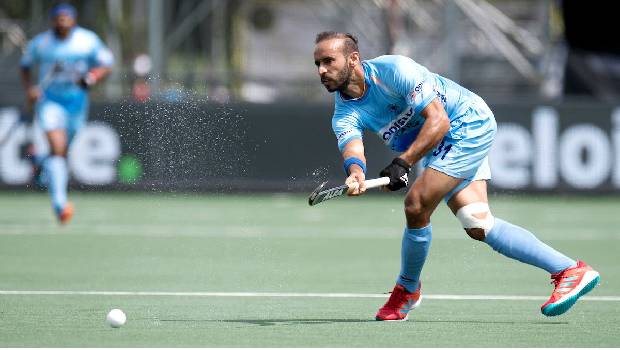 Indian hockey team player Ramandeep Singh is elated to see activities surrounding hockey resuming back in India after the pandemic break. He also encouraged young hockey players and pointed out the importance of following the SOPs provided by the National Federation.
Ramandeep in a recent Hockey India press release said that after several months of hiatus it was great to see sports activities resume at the local level. He also mentioned that a lot of young hockey through messages have said to him how excited they are to regarding this matter. Ramandeep through the interview asked every player to primarily follow the SOPs issued by Hockey India and State Governments so that sports activities can be conducted in a safe and secure area. Ramandeep is currently in Bengaluru and is taking part in the National Coaching Camp in SAI.
He further added by mentioning the recent local-level tournament that took place in the state of Jammu and Kashmir. He mentioned that individuals associated with the sport of hockey celebrated this tournament as it was seen as the return of the sport into mainstream after the pandemic break. As some fruitful outcomes have begun to rise Ramandeep asked players to be safe and be responsible when they are playing.
Few weeks back upon undergoing tests before entering the bio-bubble in Bengaluru a handful of national hockey players tested positive for coronavirus. Speaking about his fellow teammates Ramandeep said that the recovered players have now joined the rest of the team and have even resumed their practice sessions. He highlighted that it was good to have them back and seeing them return to their true self.
Ramandeep also thanked Hockey India and SAI for providing the best assistance, facilities and care for treating the players that tested positive for COVID-19. He mentioned that players are now only practicing basic workouts and activities, but he ensured that from October the intensity in SAI will grow as players will start undergoing serious practice sessions to keep their fitness and form to the maximum.
The striker who was part of the Indian team during the FIH Hockey Pro League said he isn't too worried about not having international competitions this year. As he feels it's important that the players first get back into their fitness and upon reaching that play matches within the bio-bubble.