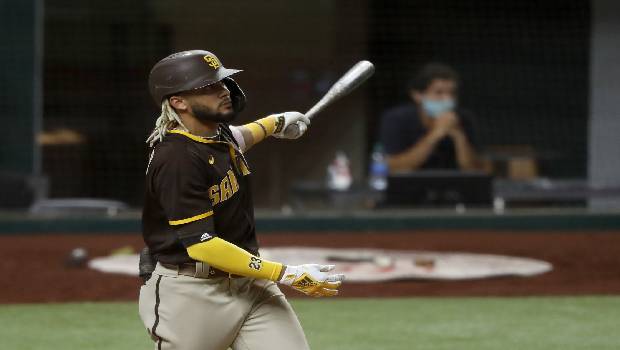 Tatis' spring training was put on pause for 6 days as he battled COVID-19. But the magnetic shortstop was back in action. A 5-4 loss to the A's and it took him was just a couple of minutes to make his presence felt with a monstrous leadoff home run off Sergio Romo in the top of the first inning.
Slider after slider Romo was on course to strikeout Tatis off the pitch but then in his sixth and final ball, which was also a slider unsurprisingly, the young batter swung his bat to send the ball to a homer. A fun fact is that the first homer Romo conceded in his Major League Baseball debut season was to Fernando Tatis Sr on July 10, 2008.
Tatis' swung the same way and clearly showed that he still carrying his midseason form. As regular he would do Tatis after blasting the ball admired it and clapped his hand as he set to run towards the first base. His run very well showed that he was convinced with the homer of being perfect.
Padres starter Chris Paddack said in his post-match interview that Tatis is doing just his way of things. Chris added of him being glad of having the youngster on their team. With such performances, Tatis just out there in there at the middle being a kid and is enjoying the game and having fun.
Even A's manager Bob Melvin agreed as he said that he thinks Tatis is going to have a great career ahead of him as he is being paid just the way he deserves. As per Bob the thing that really stands out is Tatis looks as though he's just playing in the park with a smile. During a game that at times can be pretty impassive but he is probably a little bit far from it as Bob sees.
This home run is Tatis' 2nd of the spring training. He then later scored a single in the game. Tatis has now scored 5 RBIs and 4 runs scored. The one thing that was a threat for Tatis' was the flu but he showed up for the game looking much better. With a 14-year extension deal worth of $340 million everyone's eyes are on Tatis bigger than ever and he is relishing it all with quality gameplays.