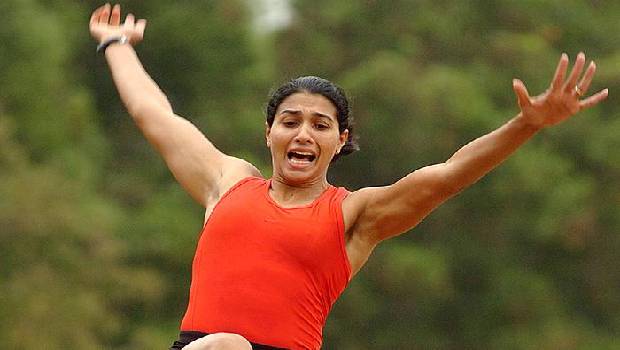 Anju Bobby George, who turned 42 on April 19th, 2020, hails from Kottayam Kerala, the Indian retired athlete had won medals in long-jump for the country both at national and international events. The happily settled athlete is married to the coach Robert Bobby George who together has an academy built to train young athletes and showcase them in a verity of major platforms. Anju George, the long-jump athlete, is the first and the only Indian to achieve the IAAF World Athletics Final's medal and won a bronze in the Paris 2003, World Championship which was also anew.
Anju has secured Golds, Bronze, and Silvers in other vital International, National, and Championship events, namely a gold at 2002 Busan's Asian Game, silver at the 2007 Asian Championship, and a bronze at the Commonwealth Games. Wishing the athlete, Anju shared views about the situation and Olympic postponement to 2021. Anju felt glad about receiving birthday wishes but said since the beginning, of 2020 it has not been a year to celebrate. About the Olympics Anju had equal disappointment on rescheduling the event to July 23rd, 2021 due to the spread of viral flu, the retired athlete said that the event's participant's would be shaping, and practicing for this quadrennial event, and now with the announcement, they had to reassess their schedule as per the 2021 dates.
Later, Anju George, said in the midst of the COVID-19 fight, people are accustoming, to the changing environment, by abiding the laws like staying-indoors, social distancing, and Anju George encouraged people to be safe. Yet, the retired Anju's national record 6.83 meters long-jump record stays unbeatable, but a few talents are found capable of trying to reach the best. The former long-jumper speaks about the trainee Shaili Singh's, and Murali Shreeshankar's who fell into the athletic spotlight quicker in despite their age.
Shaili Singh has gathered the world's attention, and now she is often said as the next Anju Bobby George, Shaili performance show consistency, recently Shaili broke her record renewed from 5.94 meters to 6.14 meters. Anju added that today's technology for the athletes is immense when compared to Anju's practice periods. About Shreeshankar, the potentiality is huge, and when improved, the achievements would be high and said that the big stages like the Olympic event should not burden these athlete's performance added, Anju George.