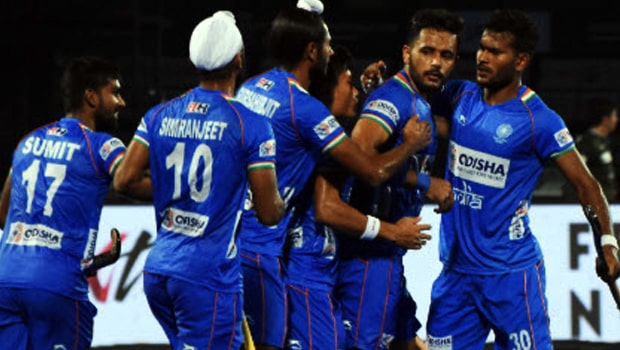 The Indian men's hockey team carved a route for themselves to the Olympics by defeating South Africa 5-1 in the final of the FIH Men's Series Final Bhubaneswar Odisha 2019 in Bhubaneswar on Saturday. The win means they have now made it to the final round of the Olympic qualifiers which will be held in October where two out of the eight competing teams from around the world will book a spot for Tokyo, 2020.
Here are the big takeaways from India's FIH Men's Series Finals triumph.
Drag flick dominance
India's top two goal scorers at the tournament were Varun Kumar and Harmanpreet Singh, both of whom are defenders who got the bulk of their goals from penalty corners. As compared to previous Indian sides who've struggled to make their penalty corners count, this Indian side made the most of their drag flicks with Singh and Kumar amassing 12 goals amongst them. The duo performed admirably, especially in the final where they scored four out of the five goals. Also, one must note that one of India's most prudent drag flickers Rupender Pal Singh was not picked for this tournament but could be a key player come the final qualifiers.
Strong defence
The Indian defenders were a cut above the rest at the FIH Men's Series Final in Bhubaneswar this year. They conceded only four goals throughout the competition and kept the bulk of the possession in most games. Even against an attack minded side like Japan, the Indian defenders Surender, Harmanpreet and Varun were very firm, conceding just two goals while maintaining a whopping 66% possession. The Indians have brilliantly executed their strategy of choking the opposition's play and not allowing them possession in the attacking half.
Asian supremacy
With a resounding tournament win, the Indian hockey team proved that they are continuing to be one of the powerhouses in Asia, beating the likes of Russia, Uzbekistan and Japan on their win to the title. Against Uzbekistan and Russia, they were resounding 10-0 winners and played nearly the perfect game. They set a good example and showed the rest of the continent how good they are for the next Asian games.
Goalkeeper replacement found
India's number one shot-stopper P R Sreejash has been a loyal servant to hockey for the past decade but has found his form petering of late, particularly during the world cup last year where a few mistakes cost the Indian team. Therefore, for this tournament the Indian team decided to play with Krishan Pathak and the youngster was exceptional, conceding just four goals in the five games. The 22-year-old made three crucial saves in the final as well which helped India get a resounding 5-1 win, and proved to the world that he could be a great understudy for Sreejash, ready to step up when the veteran hangs up his boots.
Written by: Saurabh Shankar