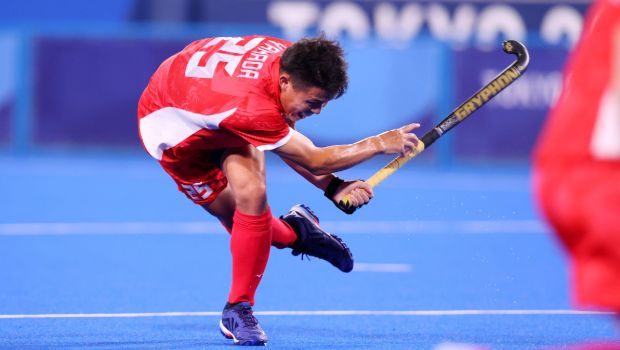 Japan defeated Indian men's hockey team 5-3 in the semi-finals of the Asian Champions Trophy 2021. The Japanese took perfect revenge for their group stage defeat to India. Japan men's team scripted history by beating India for the first time in a hockey match. Defending champions India crashed to a shocking defeat by putting up a below-par performance in Dhaka. Japan men impressed all with their attacking play and solid defense. While Japan plays South Korea for the trophy, India will face arch-rivals Pakistan for bronze medal match.
Japan, who lost its group stage match 6-0 to India, was right on the money and started attacking from the first whistle. The Japanese stunned India by scoring two goals within the first five minutes. Japan earned a penalty corner in the very first minute. Shota Yamada scored an early opener for his side. He went for the bottom right corner and beat goalkeeper Suraj Karkera with ease. Japan got a penalty stroke in the very next minute. This time, it was Raiki Fujishama and he made it 2-0 with a clean strike.
India went down in no time. Such was the domination from the Japan men's hockey team that they earned as many as six penalty corners in the first quarter itself. Japan completely looked a different side on a big match. Indian men failed to find their momentum and they were not given any opportunity for a goal in the first quarter. However, Dilpreet Singh came up with a field goal in the 17th minute and reduced India's margin.
Both teams played good defense and denied goals. Japan was awarded a penalty after Pathak fouled on Tanaka. Kirishita converted it with ease to reclaim the lead as 3-1. The Japanese men extended their lead to 4-1 with clever and brilliant play. Kosei Kawabe scored past a lonely Indian goalkeeper as the Indian defense stood like statues. Tanaka continued to shine with unselfish play. Tanaka made an excellent cross to Ryoma Ooka, who settled it into the net with a fine shot.
Japan ended the third quarter with a lead of four goals. Indian men were left clueless and missed their coordination. Harmanpreet Singh reduced the deficit to 2-5 with a brilliant drag-flick in the final quarter. Hardik Singh scored from the penalty corner to make it 3-5 but it was too late. Though India pulled two goals in the last 15 minutes, it was not enough to hold the 2018 Asian Games champions from winning the match.