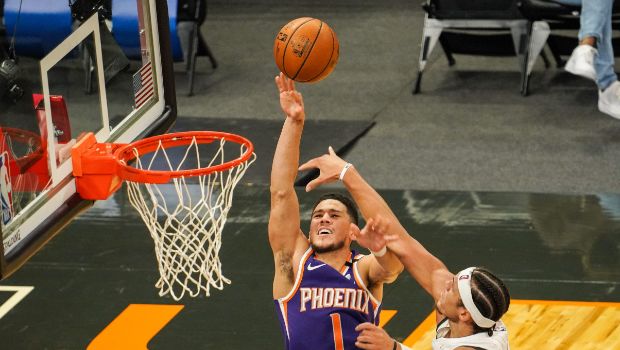 The Phoenix Suns defeated Los Angeles Clippers 136 – 130 to win the series at 4-1 in the first round of the NBA playoffs. With a thrilling win, the Suns sent the injury-riddled Clippers back to Southern California. The Phoenix Suns have advanced to the Western Conference semifinals for the third straight season. The Suns' Shooting guard Devin Booker tied playoff career-high 47 points. The Suns' forward Kevin Durant poured in 31 in the series-clinching win while Deandre Ayton had 21 points and 11 rebounds. On the other side, Norman Powell did well for the Clippers, scoring 27 points but in the losing cause.
Booker unleashed a torrent of offense in the third quarter rarely seen in NBA playoff history, hitting shots from every corner of the court. The shooting guard scored 25 points in a spectacular third quarter on 10-of-11 shooting. Booker hit three 3s and was on beast mode from midrange. Booker shot 19 of 27 from the field, including 4 of 7 from 3-point range. The 26-year-old American now has a franchise record six 40-plus postseason games.
Phoenix went on an 18-0 run to break the game open. Phoenix outscored Los Angeles 50-24 in the third quarter. The Suns' 50-point third quarter set a new franchise record for points in a single quarter in a playoff game. The Phoenix Suns went into the final period with a 111-94 advantage.
The Clippers did not keep calm and fought their way back, nearly bouncing back from a 20-point deficit early in the fourth quarter. The Clippers managed to hit four straight 3s at one point to quickly close the gap. The Clippers had multiple chances to tie in the final three minutes but failed to capitalize on their opportunities and find the basket. Durant made a layup to push Sun's lead to 134-130 and then made two free throws to put the Suns up six with 31.3 seconds left.
I think it is a good lesson for us moving forward. Do not play with your food. Finish out as strong as you can. Keep playing all the way until the whistle blows, Booker said after sealing a win for his side. I do not scream too much in games as I get older, but when he hit that 3 at the top of the key it was spiritual. I felt that energy and I know everyone in the crowd felt it. We feed off his aggression, Durant said.