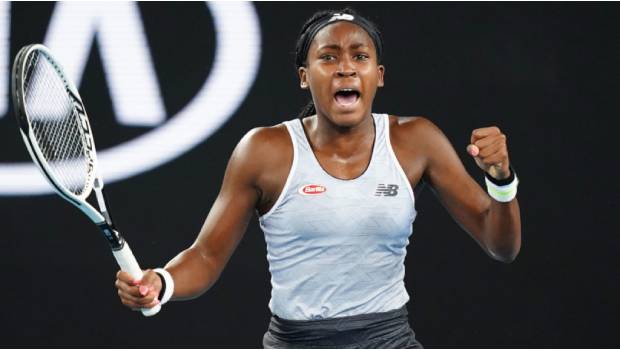 Coco Gauff the American Women's Tennis player had made history on Monday 24th February 2020 by the rankings, revealed by the Women's Tennis Federation. Before beginning the Gauff's biggest achievements, Cori Coco Gauff is a 15 years old Tennis talent, who was raised by the strong sports influencers which is none other than the Gauff's parents. Father hailed from the Basketball court, Gauff's mother was training the athletes in the track and also worked as an educator in the Florida State University.
Ever since Gauff was four the tennis-teen was obsessed with tennis and grew inspired by watching Serena Williams play in the Australian Open. From then on, tennis officially became the sports career for Gauff and imprinted the first success by winning the under 12 when Gauff was 10 years old in the USTA Clay Court Nations. Gauff jumped 2 qualifying tournaments to enter the young records that carried her to the ITF Junior Circuit.
Gauff debuted 2017 US Open and returned as a runner-up but won against Caty Mcnally with straight winning sets in the 2018 French Open Junior tournament. Guff turned heads when the tennis-teen defeated Venus Williams in the 2019 Wimbledon first round, in the next round Sorana Cirstea lost as 4-6, 6-3, 7-5, and in the third round 3-6, 4-6 led the Naomi Osaka to lose against the tennis-teen.
After all, the surprising events, including the loss in Australian Open 2020 debut Guff received quite a cheer from the audience who supported in all Guff's match. Guff ranked in the top 100 Women's Tennis Federation names appearing in the 68th place, recently on Monday 24th February 2020 the WTF had released the rankings for the 2020 year ahead. Ashleigh Barty, Australia, came first with 8367 points, the racketeer retained with 16 tournaments, the second place was held by Simona Halep from Romania and in the 3rd place Karolina Pliskova from the Czech Republic.
Guff the teen racketeer from the United States of America, being produced massive year climbed two positions up and was listed in the 49th place with only 13 matches being played by the 15 years old. Guff achievements who will turn 16 in this 13th March will term as an inspiration for the current and future racketeers, before Guff, Sesil Karatantcheva appeared in the top 50 names as 15 years old in 2005.