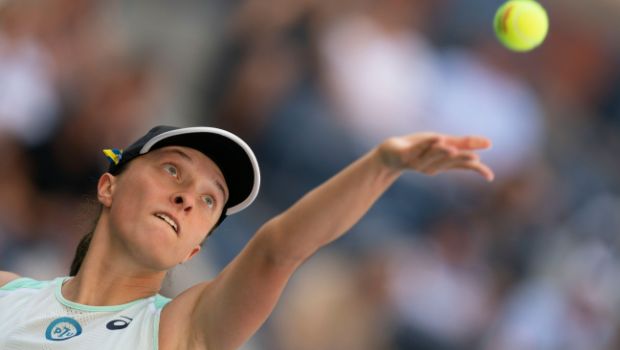 Defending champion Iga Swiatek claimed her in the quarterfinals of the French Open after her Ukrainian opponent Lesia Tsurenko retired from the fourth-round match on Court Suzanne Lenglen. Swiatek was leading 4-1 in the opening set when Tsurenko called on her trainer to check her blood pressure and pulse before retiring a game later. World no.1 Swiatek is all set to play the quarterfinals for the fourth consecutive year. Though the clash was cut short, the Pole star extended her winning streak at the French Open to 11 matches. Swiatek has an impressive 25-2 record at the tournament throughout her career.
Swiatek will next face American sixth-seed Coco Gauff in tomorrow's (June 7) quarter-final, setting up a rematch of last year's Roland Garros final. Swiatek defeated Gauff in straight sets 6-1, 6-3 to clinch the title in 2022. This time Gauff will look to take revenge on the 22-year-old Pole and earn a spot in the semi-finals. But she has to deliver her 100 percent right from the start since Swiatek has emerged victorious in all six of their previous meetings, all in straight sets. The 19-year-old American reached the last 8 stage by defeating Anna Karolina Schmiedlova.
This quarterfinal encounter marks a rare occurrence in the Open Era, with a French Open final rematch taking place in the following year's quarterfinals. The last time this happened was in 1980 and 1981 when Chris Evert defeated Virginia Ruzici in both the final and the subsequent quarterfinals.
Expressing concern for her opponent, Swiatek said it is not nice to finish a match like that. So, I hope Lesia is going to be okay and she will recover quickly. I do not want to take this for granted because I know every tournament is a different story, told Swiatek. We all can kind of have really tough opponents even in the first or second round and struggle, because, as well, the beginnings of the tournaments are sometimes tough, she added.
But I just feel pretty solid here at Roland Garros. I am happy that I am in a quarterfinal, and every year I'm going to do my best to always reach these stages or even more so, Swiatek concluded.
Meanwhile, in men's singles, aggressive Alexander Zverev earned his place in the French Open quarter-finals with a 6-1, 6-4, 6-3 win over Bulgarian 28th seed Grigor Dimitrov. The 26-year-old German will battle with Argentine Tomas Martin Etcheverry to claim a berth in the semi-final.