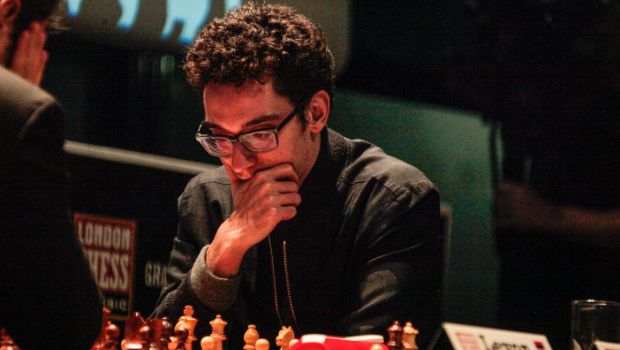 GM Fabiano Caruana won the seventh Vugar Gashimov Memorial after beating GM Richard Rapport in the Armageddon playoff game. The Gashimov Memorial tournament was played in the rapid and blitz format. Both GM players finished on 24 points after the blitz segment was over. People with a mind of imagination felt that Caruana's victory had some similarities with how Max Verstappen won his first Formula 1 title. No one thought Max would win the title but unexpectedly he beat Lewis Hamilton in the final race.
Entering the final round with the same number of points, Rapport started well and moved ahead rapidly as he successfully tried a sharp King's Indian setup against GM David Navara. Rapport used his skills and went slightly better in the endgame. He continued to outclass his opponent and virtually put Caruana on some distance.
Chasing Rapport, Caruana, got behind more and more as his position became worse, enjoying Black against GM Shakhriyar Mamedyarov. Rapport was on the verge of tournament victory, but all of a sudden Mamedyarov blundered terribly with lack of concentration or some distraction. Finally, the American Caruana ended up winning an unwinnable game. Caruana did quite well in the blitz segment and won 22 points.
As if helped by a safety car, the American chess prodigy was tied with Rapport once again after 14 rounds. Everyone waited for the ultimate lap of the race, the Armageddon which would decide the winner. When we continue with the comparability, GM Caruana's contemporary tires have been his psychological advantage in this game. He outplayed his opponent and ended up winning the Armageddon on-demand with the white pieces.
It was quite interesting to look at the new speed chess ratings after this tournament. GM Richard Rapport is now the world's no. 5 rapid player as he gained 48 points in the rapid ratings. GM Caruana stands in the 9th spot of the ratings.
Indian chess ace Viswanathan Anand finished last in the Gashimov Memorial tournament. Anand managed only two wins and scored nine points after seven rounds of rapid and fourteen rounds of blitz. The Indian GM secured his sole win of the blitz event against David Navara. He outclassed the Czech player in a 70-move marathon in round 10.
Earlier in the rapid section, Anand managed only one win against Shakriyar Mamedyarov in the sixth round. The former World champion Anand suffered two defeats; one was against the title winner Caruana and the other was against Richard Rapport of Hungary.