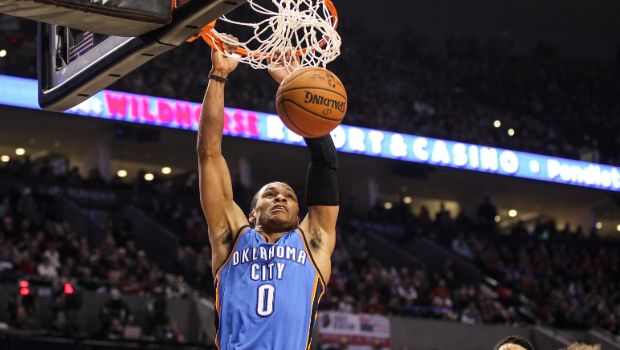 The Oklahoma City Thunder rallied from 26 points down to beat the Los Angeles Lakers 123-115 at Chesapeake Energy Arena. City Thunder fought hard to register their first win of the season. City Thunder leveled their biggest comeback ever to get over the hump after solid performance against Philadelphia and Golden State in their previous two games. The City Thunder players never considered giving up and battled well till the last minute.
After the OT win against the Spurs, Los Angeles was defeated in the fourth quarter. LeBron James missed a game again due to a right ankle injury. Russell Westbrook replaced him by taking the home floor and played well to take the lead. Westbrook scored 20 points, 14 rebounds and made 13 assists. Anthony Davis was brilliant on the court for the Lakers.
Davis led the Lakers with a game-high 30 points and 8 rebounds. Davis was knocking down from the mid-range as well. Westbrook was responsible for the Lakers' hot start. Westbrook, the former Thunder star notched his first triple-double in Lakers uniform. He moved the ball well, whether it was a lob to the big man or a bounce-pass through the lane.
Shai Gilgeous-Alexander played a crucial and leading role for City Thunder. Alexander led the Thunder with 27 points and 9 rebounds. Darius Bazley added 20 points and 6 rebounds. Josh Giddy and Luguentz Dart contributed 18 and 17 points respectively. The Lakers' defense was weak in the second half of the game. Lakers' defensive deficiencies allowed the youngest team in the NBA to fight their way back from a 26-point lead. The City Thunder hit their season-high points, and then stole a memorable win.
Oklahoma City Thunder shot just 10 percent better than the Lakers. Los Angeles failed to control the Thunder on the perimeter. The Thunder led 118-115 with 9.7 seconds left when Carmelo Anthony intercepted. Davis badly missed a 3-pointer that would have tied the game for Lakers. Thunder's Dort was fouled with just 4.7 seconds left in the play. His first free throw rolled in, but he completed the second to put the Thunder up front.
The momentum switched quick as the Lakers lost their focus towards the end. City Thunder utilized the opportunity and broke through eventually. Hopefully, the Lakers will figure out to put the finishing touches on their upcoming games. Los Angeles Lakers will host the Cleveland Cavaliers in their next match.