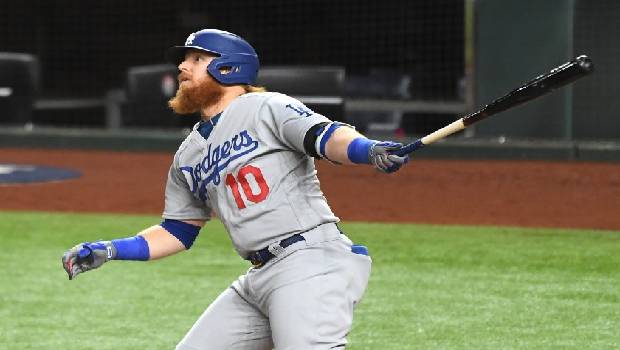 After an ordeal MLB season, the Los Angeles Dodgers were crowned as the World Series champions after beating the Tampa Bay Rays by 3-1 in Game 6. The dodgers became champions after a 32-year long wait. This win also comes just over two weeks after the Lakers won the NBA championship for the first time in 10 years.
The World Series did provide a thrilling end to the MLB season. This in fact is incredible as seven months ago it was a dream to have a baseball season amid the pandemic.
It was tough for MLB to escape the fear of coronavirus as Dodgers Justin Turner was removed at the 8th inning after receiving the result of him testing positive during Game 6.
During an on-field interview MLB commissioner, Manfred said the occasion as a bittersweet night. He lauded the efforts and complimented the players for their win.
Turner wrote on his Twitter handle that he feels great and felt every emotion that can possibly be imagined. He was upset about not able to celebrate with his teammates due to the disease but is unbelievably happy for the city. However, after tweeting Turner indeed returned to the field to celebrate with his teammates.
In the past 4 years, this is Dodgers 3rd World Series appearance but they had not won on any occasion since 1988. This was Tampa's 2nd World Series appearance, the other coming in 2008.
Rays had the lead in the first inning as Randy Arozarena hit a home run and they carried this lead until heading into the bottom of the sixth. Their starter, Blake Snell was pitching brilliantly as he went 5 1/3 innings with 9 strikeouts. But after giving up a hit to Austin Barnes he was replaced by Nick Anderson.
This was a decision that the Dodgers capitalized on very well. In the bottom 6th inning Mookie Betts double run hit advanced Barnes to third base. Later a wild pitch from Anderson saw Barnes returned home with Betts moving to third. After a play Betts slid safely home, scoring the go-ahead run on a fielder's choice hit by Corey Seager. Seager later went on to clinch the World Series MVP honors. A solo home run from Betts in the bottom of the eighth inning assured an extra run for the Dodgers.