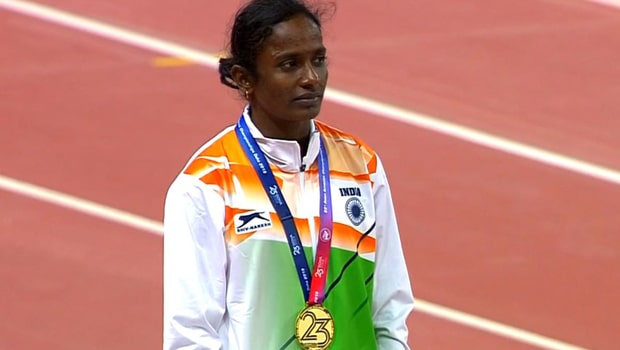 On April 22, Gomathi Marimuthu drew the attention of thousands of spectators when she bagged India's first gold medal at the 2019 Asian Athletics Championship in Doha, Qatar.
The 30-year-old was the first to cross the finish line in the women's 800M final, clocking a personal best of 2:02.70. However, there's more to her than meets the eye.
Gomathi's tale of sheer determination and perseverance should serve as an inspiration to many of India's budding young athletes. Hailing from Tiruchirappalli, a small town in Tamil Nadu, she has been constantly bombarded with adversities along her path. With little to no financial support as well as a lack of sound training facilities, the journey to success was always going to be a tricky one.
However, the 30-year-old attributed her achievement to the efforts of her late father. At the press conference after the race, Gomathi spoke of the jaw-dropping sacrifices her father made to ensure she could realise her dreams.
"When I used to do sports, my father had a leg ailment and he was unable to walk. He had a two-wheeler and that was a big deal for us back then. We did not have good bus facility to go to the city, there was no electricity in my town and the roads weren't good either."
Look at this incredible run!
Gomathi Marimuthu of India won 800m Gold at Asian Championships in Doha. Sadly no one to even hug/congratulate this 30-yr-old daughter of farmer from a village near Tiruchi. She picks & waves the Indian Flag herself.
That is patriotism!
Jai Hind!! pic.twitter.com/VqTkJJ3dLQ

— Lt Gen Satish Dua?? (@TheSatishDua) April 25, 2019
"I miss my father. Since I was into sports, and we didn't have much food, he kept aside some for me and ate cattle feed. I can never forget that one day. If only my father was around today, I consider him to be like God."
Despite her father's struggles, she had initially faced a lot of failures in her career. Numerous injuries and a genuine lack of sponsors hindered her progress and at 30, it looked for all the world as if her career was on a downward spiral. On the racetrack at Doha, concerns were raised once again of Gomathi's tenacity as a poor start saw her chasing the pack after the first lap.
However, as always, Gomathi refused to throw in the towel, putting in a sensational and lung-bursting last 400 metres, narrowly edging past China's Wang Chunyu in what proved to be a truly exhilarating finish.
Since her heroic display, Gomathi has been given a resounding show of support and appreciation from the media and supporters from her homeland of Tamil Nadu. The gold medal has also forced the Tamil Nadu government to take note of her abilities as they have promised to aid her with financial compensation.
Despite her recent success, Gomathi is no position to rest on her laurels. She has publicly stated that a spot in the 2020 Olympics in Tokyo is her main objective. With the IAFF World Championship slated to begin in September this year, India will be watching with a keen eye on what she can produce on the grand stage. One thing is for sure though, the passionate runner will give it her all and then some.
Written by: Nithin John