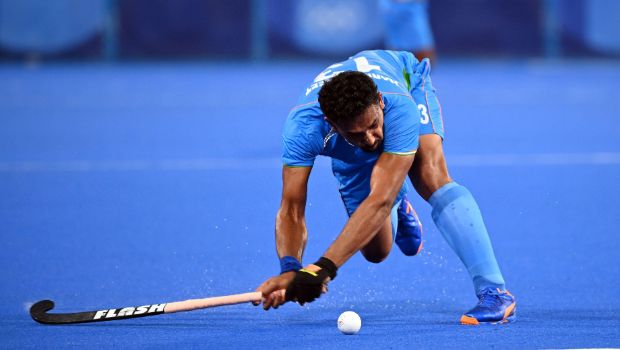 South Korea dramatically won the Men's Asian Champions Trophy in a penalty shoot-out at the Maulana Bhasani Hockey Stadium. Japan's dream of winning another continental title was shattered after two of its players missed out on the shoot-out. However, the Japanese won their first silver medal at the Asian Champions tournament. Korea staged a great fight and came from behind to level the scores in the regular time of play.
Lee Hye-Seung sealed the gold medal for Korea by scoring his team's fourth goal. The Japanese failed to defend a 3-1 lead as the Koreans played brilliantly to score two goals towards the end. Later in the shoot-out, the Japanese muffed the first and third chance so that their hope of winning the trophy went up in smoke.
In a well contested final, South Korea took an early lead after Jeong Jun-woo opened the scoring in the 8th minute. But the Japanese never looked back and bounced back well as a team. Very soon, Japan found the momentum and scored three goals in just 14 minutes. While Ken Nagayoshi scored the equalizer, Ryoma Ooka cleverly scored the second just before half-time.
Eight minutes into the second half, Japan continued the rhythm and scored a third. The Japanese looked on their way to victory after Yoshika Kirishita penetrated through the Korean defense and scored with ease in the 38th minute. But the Koreans made it tough with their attacking play. A late double by Jang Jong-hyun surprisingly took the match to penalties. Jang scored the third goal in the last seconds (60th minute) to level the scores.
In the shoot-out, South Korean captain Lee Jung-jun, Ji Woo-Cheon, and Hwang Tae-il found the net before Lee scored the winner. But the Japanese felt some pressure when Raiki Fujishima missed their opener. Japan completely lost hope after Kosei Kawabe missed the third chance. Goals from Japan captain Seren Tanaka and Ooka went meaningless.
Earlier in the day, India won the bronze medal by beating Pakistan 4-3. Harmanpreet Singh stunned Pakistan by scoring a very early goal (2nd minute). A few minutes later, Afraz scored the equalizer. Rana then gave Pakistan a 2-1 lead at the start of the second half. After creating numerous chances, Sumit found the net early in the fourth quarter to level the scores.
But it was a dramatic final 15 as Varun and Akashdeep gave India a two-goal cushion before Pakistani Nadeem made it a nervous end to the match. However, India held onto the lead and won the game.