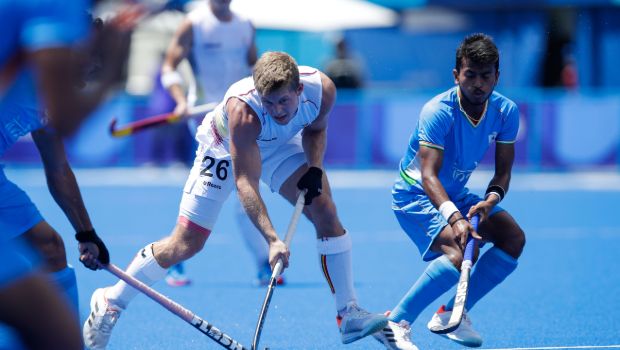 The Indian hockey team thrashed Canada 13-1 in their Pool B match of the FIH Hockey Men's Junior World Cup. India outclassed Canada with pure class and dominance at the Kalinga Stadium in Bhubaneshwar. The Indian men recorded the second-highest number of goals scored in a single match at a men's junior World Cup. Earlier in the day, Spain registered a record-breaking 17-0 win over the USA in a Pool C game. It was a day of big margin wins in the Junior World Cup event as Argentina defeated Egypt 14-0 in the first match of the day.
After a shocking defeat at the hands of France, India bounced back with a comprehensive win. Indian men played with better coordination and rhythm to maintain pressure from the start. While Vice-captain Sanjay scored his second hat-trick of the tournament, Araijeet Singh Hundal scored his first. Shardanand Tiwari and Uttam Singh scored two goals each. Olympic bronze-medallist Vivek Sagar Prasad, Maninder Singh, and Abhishek Lakra also got their name on the score sheet with one goal each.
India made a rapid start by scoring the opener in the sixth minute. Uttam Singh put his shot in the back of the net from a back pass of Maninder Singh inside the circle. Two-time 'FIH Young Player of the Year' Sagar Prasad made it 2-0 after a mazy dribble from Maninder Singh before the end of the first quarter.
Indian men dominated the second quarter with an attacking play. They created multiple chances and scored two more goals. However, Canada managed to pull one back from a penalty corner. India finished the first half with a 4-1 lead. India continued the momentum with more possession in the third quarter. Indian men kept attacking and moved the ball around without much opposition.
Indian team scored three goals from drag flicks as three different scorers scored one each and kept India ahead at 7-1. Canada looked dispirited and had no idea to stop the Indian power. Indian men ran riot in the final quarter and scored as many as six goals. Sanjay and Araijeet Singh both completed their hat-tricks towards the end. The Indian team scored seven of its goals through penalty corners.
Canada was knocked out of the Junior World Cup after their second consecutive defeat. Earlier, Poland defeated Canada 1-0 in their opening game. Defending champions India will play Poland in their final pool match on Saturday. A draw is enough for India to make it through to the quarter-finals.