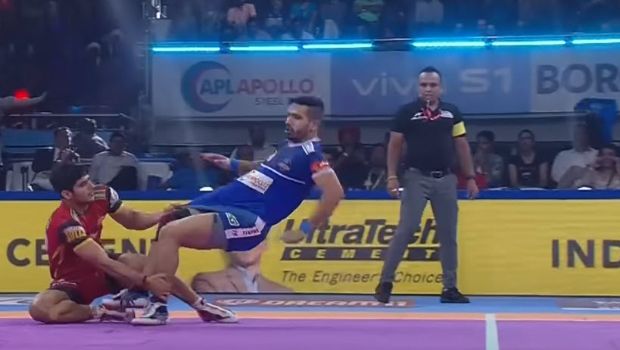 Defending champion India staved off a stiff challenge from Iran, securing 33-28 for its fourth straight win, and stormed into the final of the Asian Kabaddi Championship at the Dong-Eui Institute of Technology Seokdang Cultural Center in Busan, Korea, on Thursday. It was a proper thriller that lived up to its expectation. India and Iran, two of the strongest teams in the world of Kabaddi played out another match which went down to the wire. Pawan and Aslam kept India in-game with regular points in raids. Arjun Deshwal and Parvesh struggled. Whatever was said and done, India wins the 'virtual final' before today's (June 30) final.
Indian captain Pawan Sehrawat led the charge, scoring 16 of the 33 points. Iran, like India, was on an unbeaten run coming into the contest. The teams made a cautious start as the match opened. Aslam Inamdar's two-point raid followed by an all-out and Pawan Sehrawat's two-point raid helped India build up a healthy lead early on. They held on to the lead and led 19-9 at halftime.
Reigning Asian Games champions Iran, who beat Korea 72-17 earlier in the day, mounted a terrific comeback after the break and handed India their first all-out of the tournament, and reduced the gap to just two points with a minute to go. However, a super tackle by India with 30 seconds to go in the match followed by a two-point raid by Arjun Deshwal helped them to wrap the match up with a five-point margin.
Iran played a high-defense game toward the dying minutes of the match. But Arjun went in and came back with not one but two touchpoints to almost seal the deal in the thrilling game. Pawan then went in front like a shield to minimize the damage as it was the last raid of the game for Iran. He allowed his touchpoint to end the game in India's favor. What a game this has been. Quite a rollercoaster for both the teams but eventually it was India that kept its nerves calm to emerge as eventual winners.
Earlier in the tournament, India beat Japan 62-17, Korea 76-13 and registered a 53-19 win over Chinese Taipei. They will play Hong Kong in their final league match on Friday before playing their final on the same day.
The top two teams after the conclusion of the league stage will play the final. India has won seven of the eight Asian Kabaddi Championship editions played so far while Iran won the title only once in 2003.