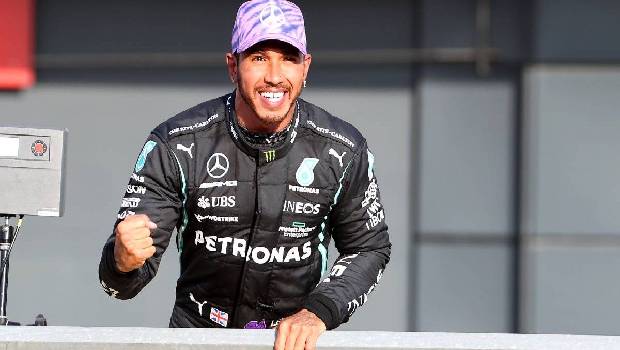 Lewis Hamilton sealed a win at the British Grand Prix on Sunday. Despite an early collision with Max Verstappen, Hamilton went on to win the race and celebrated his record eighth victory at the British Grand Prix. Lewis Hamilton was given a 10-second penalty after he collided with Max Verstappen on the first lap at Copse corner.
Lewis Hamilton attacked Verstappen continuously and made several attempts to overtake him. When Hamilton tried to cut inside on a corner, the Red Bull driver Verstappen turned and hit the Mercedes in front, and flew across the gravel and into the barriers. The race was halted with Charles Leclerc in the lead and the Formula One world championship leader Max Verstappen was sent to the hospital for precautionary tests.
Even after getting a 10-second time penalty, the experienced racer fought back and overtook the race leader Charles Leclerc at the closing stage to win the British Grand Prix. This win also reduced the gap in the driver's standings list between Hamilton and Verstappen.
The crowd rose to cheer on their home hero Hamilton when he overtook Ferrari's Charles Leclerc with only two laps to complete the race. The other Mercedes driver Valtteri Bottas finished third ahead of McLaren's Lando Norris.
This win is the 99th for Hamilton in his Formula One career. Hamilton is a seven-time world champion. He captured the fourth win of the current campaign and one of the more controversial. The reigning champion, Hamilton is now only eight points behind Red Bull's Verstappen after 10 races.
Earlier, Max Verstappen won Formula One's inaugural sprint race on Saturday to take pole position for the British Grand Prix. The Formula one World championship leader finished the 100km clash ahead of the defending champion Lewis Hamilton. With this win, Verstappen gained a 33-point lead over Hamilton. But Verstappen failed to complete a single lap after suffering an accident when he crashed out at the Copse corner. Verstappen was unhurt and waved to the crowd before getting into an ambulance.
Lewis Hamilton said it is a proud moment for him. He insisted that his attempt to overtake Verstappen was under the rules. Hamilton also added that it is always special for him to battle with the World championship leader Max Verstappen, who is very aggressive.
Red Bull's team manager Christian Horner told it was a terrible accident and it looks like a foul. He thanked God as Verstappen walked away without any injury.