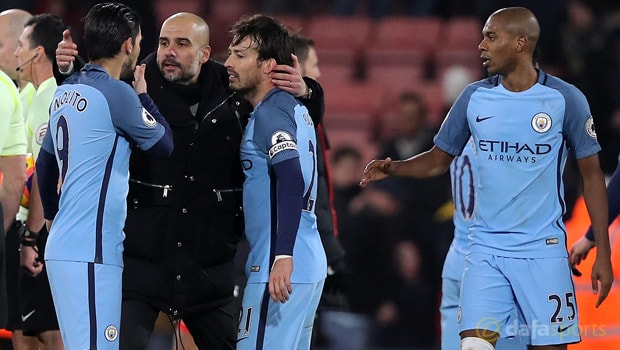 Manchester City manager Pep Guardiola insists his side are still too far behind Chelsea in the title race following their 2-0 win over Bournemouth on Monday.
The Citizens, 8.50 to win the title, moved up to second in the Premier League table thanks to a strike from Raheem Sterling and an own-goal by Tyrone Mings.
Guardiola's team are now eight points behind their rivals after Chelsea could only pick up a 1-1 draw at Burnley on Sunday. With just 13 games remaining, the former Barcelona coach insists Chelsea will not blow it.
He told Sky Sports: "The gap is still so long, so you do not expect them [Chelsea] to lose games and it is so, so difficult to win all the games.
"So the gap is too, too big. Yesterday [Sunday] they did not win, but they played so solid, so it is so difficult to create chances.
So the important thing is to focus, from the last month and a half we have talked about that – just focus on our game, game by game, and improve our performance.
"And my feeling is that in the last games, our performance is much, much, much better. The only regret today is we created so many chances and it is so important to score goals.
But in general I am so, so happy for the performance." After losing 4-0 to Everton last month, City have rallied to pick up four wins and a draw from their last five games.
Guardiola will be hoping his side can progress in the FA Cup and Champions League, with Huddersfield and Monaco up next respectively.