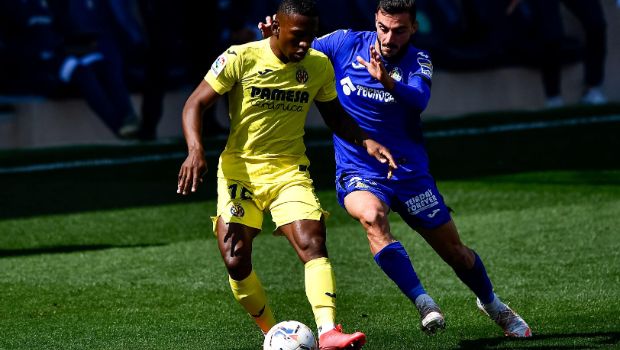 Liverpool has one foot in the Champions League final after beating Villarreal 2-0 in their semifinal first leg at Anfield. Liverpool played well and saw two goals in the second half to earn a deserved victory. Similar to their victory over Everton last weekend, the Reds had the chances to take command early but were just a tad off and came to life in the second half of the game. Fans at Anfield had to wait for nearly an hour of play to see the first goal.
But it finally came via an own goal from Pervis Estupinan off a cross from Jordan Henderson in the 53rd minute. Henderson's cross inside the box took a deflection off Estupinan and goalkeeper Geronimo Rulli was beaten by the looping trajectory of the ball.
Two minutes later, Sadio Mane made it 2-0, thanks to his quick finish of a naughty and clever assist from Mohamed Salah, who rolled the ball into his path inside the box. The Reds registered a comfortable victory with 76 percent of possession throughout the game.
Unai Emery's side did not threaten once and failed to record a shot on goal. Villarreal managed to finish with just one shot overall which was not on target while the Reds produced 19 shots on goal. The Yellow Submarine, using the game-plan of prioritizing defending and aiming to then attack the counter, could not repeat the performances that were seen against Bayern Munich and Juventus. Those performances got Villarreal to this point.
Liverpool kept going and attacking as the Reds believed that they would eventually break down Villarreal at one point. And the Reds proved the same with two good goals. The Reds' counter-press was good and made it tough for Villarreal.
It has been an utterly dominant performance by Jurgen Klopp's men. Apart from the occasional chance, Villarreal has not been able to create anything substantial throughout the match. As a result, the Reds can now go to Spain next week and even advance with a one-goal defeat. On the other side, Villarreal needs a two-goal win to force extra time, and anything superior would see them pull off an all-time shocker.
Villarreal would make it more difficult as a well-organized team in the semifinal second leg. Liverpool, who won the Champions League title in 2019, is attempting to reach their third Champions League final in five years. The game is still alive and it would be tough in Villarreal.