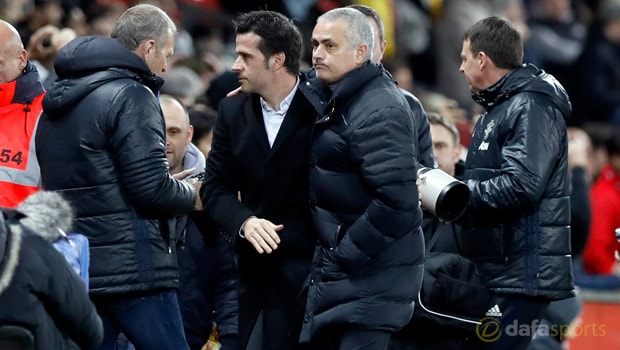 Following Manchester United's disappointing home draw with Hull City, boss Jose Mourinho insisted Premier League officials treat him differently to rival bosses.
The Old Trafford supremo felt Hull were guilty of wasting time during the scoreless draw and revealed that he was told to take a seat in the dugout or he would be sent to the stands by the officials.
Mourinho highlighted Liverpool manager Jurgen Klopp's exchange with fourth official Neil Swarbrick during their 1-1 draw with Chelsea on Tuesday as evidence that he gets a raw deal.
The German apologised after shouting in Swarbrick's face during the second half of the match against the Premier League leaders, and said the official told him: "No problem, I like your passion."
Mourinho clearly feels the same attitude does not apply where he is concerned. "You know clearly I am different. The rules for me are different," he said.
"Yesterday a fourth official told a manager: 'I enjoy very much your passion.' Today, I am told to sit down or I am going to be sent to the stand."
Mourinho insisted that he was not going to be critical of Hull given that they are fighting for Premier League survival and every point they earn is like 'gold', but he urged the media to speak up on his behalf.
"I don't criticise my opponent. They are fighting for their lives. Every point for them is gold. They have to fight with everything they have. They tried to see what they were allowed to do."
He told reporters at the post-match press conference: "Tell the truth. It is as simple as that. You will be doing a public service, I think.
If I speak I am punished. I don't want to be punished." Man United are 2.38 to finish in the top four this season while the Red Devils are 1.67 beat Leicester on Sunday.