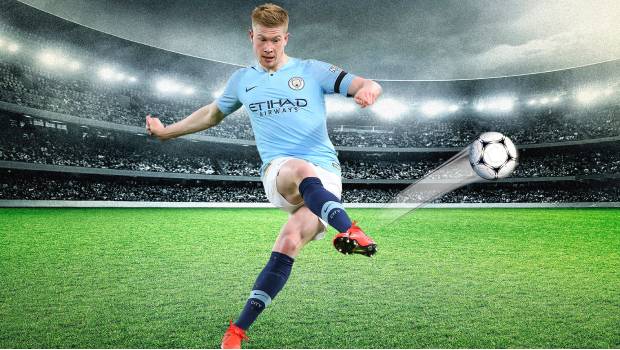 Belgium beat Denmark 2-1 to get into the last 16 of the European Championships. Belgium's Kevin De Bruyne brilliantly scored the winning goal to beat the Dutch and made his team reach the knock-out stage of the Euro 2020.
Denmark had a change in their playing XI and also shifted the team formation due to the absence of the star midfield player Christian Eriksen, who collapsed from cardiac arrest during the match against Finland.
Denmark played with good intensity, aggression, and ambition against Belgium, the World's No 1 ranked team. The Dutch started brilliantly and scored a goal within the first two minutes of the game. Poulsen stunned Belgium with a goal, which is the second-fastest goal in the history of the European Championships.
A poor defending from Jason Denayer made Poulsen strike the ball into the corner of the nets and the hosts took an early lead in the game. After scoring the goal Poulsen ran to the corner of the ground where his teammate had fallen. It was so emotional and the crowd gave a huge roar that would have reached Eriksen who is treated in the hospital.
After 10 minutes, the game was interrupted by the referee for a moment of applause for Christian Eriksen. Denmark had many chances but couldn't find the ball into the nets. A good corner shot from Carrasco was punched out by the Denmark keeper Schmeichel. In the 35th minute, Belgium's Damsgaard missed the far corner of the nets by few inches when he curled the ball with his left foot. Belgium found it very tough to get any open way from the Denmark defenders.
It was the first half of the play, Denmark went with a lead of 1-0. Denmark never allowed Belgium to bounce into the game. The No 1 team was expected to turn on the game in the second half of the play.
Belgium replaced Dries Mertens with Kevin De Bruyne, who missed the first game against Russia with a facial fracture. After his arrival, their team had a good tempo and played positively to score the equalizer. It was in the 54th minute, Romelu Lukaku went past the Denmark defence and pulled the ball to Kevin De Bruyne from the byline. De Bruyne guided the ball across the Six-yard box, where Eden Hazard came in and scored the deserved goal.
A masterclass came from the star player Kevin De Bruyne, as he smashed the ball into the top of the Denmark nets with his left foot. The Belgium frontline players Eden Hazard, Romelu Lukaku, and Axel Witsel played their part excellently and it was a brilliant team goal in the 70th minute of the game. Denmark tried very hard to level the score but it went unsuccessful till the last minute.